Dr. Wallace J Nichols presented the 4th Annual Blue Mind Award to Doctor Thomas Lachocki of NSPF at the 14th Annual World Aquatic Health™ Conference held in Denver, Colorado. The Blue Mind Award recognizes an individual and/or organization for efforts that mechanize positive change in their Blue community.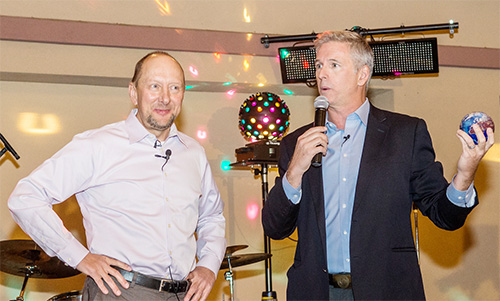 Dr. Wallace J Nichols describes the significance of the Blue Mind Award
and the contribution of Tom Lachocki and the National Swimming Pool Foundation team
to supporting Blue Minds all over the world.
Dr. Lachocki, the National Swimming Pool Foundation team, and the entire World Aquatic Health Conference network have connected the dots between physical and mental health and an active aquatic lifestyle. Their leadership is changing for good the conversation about the value of clean, healthy water.
"We share the vision of a world where all people are confident and competent in the water and enjoy access to all the benefits this brings to themselves, their families, and their communities." Says Dr. Wallace J Nichols, founder of Blue Mind. "We're proud to award the 4th Annual Blue Mind Award to these deserving recipients."

Last year's recipients, Sally Wright and Kathy Renfro of Carbondale, Illinois, were on hand to pass the award on to Lachocki. "It's a little hard to let go of this deeply personal award which is symbolic of our work over the last decade, but we are happy to see Tom and his team recognized for their contribution to the world of water."

Members of the Carbondale community and Parks and Recreation Department were presented with the award in 2016 for their work on the Carbondale Splash Park. The park ideation team included President of the Board of Commissioners Harvey Welch, an African American gentleman whose entire life was changed by his inability to swim as a child. His work within his community engaged leaders and residents alike in their quest to give everyone the opportunity to learn to swim, resulting in the Carbondale Splash Park.

Previous recipients of the award include University of Virginia's Professor of Sustainable Communities, Tim Beatley, for his work with Biophilic Cities around the world and his groundbreaking book, Blue Urbanism; and Van Curaza of Operation Surf, an organization providing surf therapy for veterans throughout the United States and United Kingdom.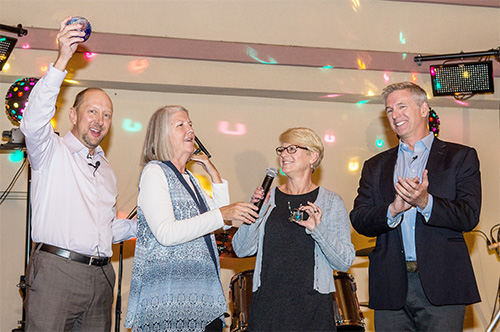 Left to Right: Tom Lachocki, CEO of National Swimming Pool Foundation,
Kathy Renfro of Carbondale Parks and Recreation, Sally Wright of Southern Illinois University,
Dr. Wallace J Nichols, Founder of Blue Mind.
About Blue Mind

Blue Mind supports and advises those on the frontline of reconnecting people to water, sponsors the Annual Blue Mind Summit, the Annual Blue Mind Award, and shares their message around the world via a wide range of media, events, and workshops.
About Dr. Wallace J. Nichols

Dr. Wallace "J." Nichols, called "Keeper of the Sea" by GQ Magazine and "a visionary" by Outside Magazine is an innovative, silo-busting, entrepreneurial scientist, movement maker, renown marine biologist, voracious Earth and idea explorer, wild water advocate, bestselling author, sought after lecturer, and fun-loving Dad. His experiences as a field research scientist, government consultant, founder and director of numerous businesses and nonprofit organizations, teacher, mentor, parent, and advisor all support his quest to build a stronger and more diverse blue movement.

He has authored more than 200 scientific papers, technical reports, book chapters, and popular publications; lectured in more than 30 countries; and appeared in hundreds of print, film, radio, and television media outlets including NPR, BBC, PBS, CNN, MSNBC, National Geographic, Animal Planet, Time, Newsweek, GQ, Outside Magazine, Elle, Vogue, Fast Company, Surfer Magazine, Scientific American, and New Scientist, among others.

Press Release