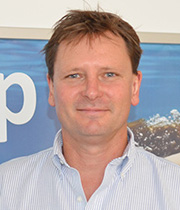 Lane HOY
CEO of PCFR/Poolcop
Thanks to SCP's strong partnership with PoolCop since the last 4 years, 2017 saw an increase in the number of swimming pool automation system installations throughout Europe.
If one may recall, with PoolCop Evolution the pool is connected, allowing both unrestricted management and significant savings.
Savings of approximately 30% in energy used, and up to 50% in products.
And without constraints and real-time monitoring and control of the equipment from a smartphone!
The pool can also be viewed through the video camera on the www.poolcopilot.com interface to monitor the pool in permanence.
Professionals using PoolCop can manage all their pools in real time, using geo-location.
This system makes them more efficient and optimizes their time management, by planning the maintenance and upkeep operations for their customers in advance.