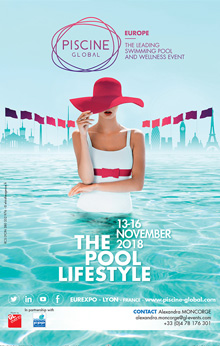 With each new edition, the trade show brings a host of new products and activities.
The 2018 edition will be strongly oriented towards the art of living, customer experience and digital.
Approaches that are fully in tune with the times and particularly effective for understanding our market!

As part of this global event, which is a reference for our profession, you will discover a new dimension in the sector's global offer in terms of public and private swimming pools, spas and the outdoors.
A new organisation of the network, a new look, a new graphical ambiance, and new communication visuals ... everything will be commensurate with a future viewed with ambition.

An indispensable turning point to continue to respond effectively to the challenges of a constantly changing market!

Also to discover in the "Commercial Pools Village":
• The trade days for key players in charge of public aquatic and sports equipment.
• The commercial swimming pool circuit, which displays a list of all the exhibitors from the public pools, aquatic centres, hotels and campsites sector, etc.
• The Aquafitness Show with demonstrations of fitness and training equipment.

Join us from the 13th to 16th November, at the Lyon Eurexpo, together with the more than 600 exhibitors and 18 000 visitors expected.