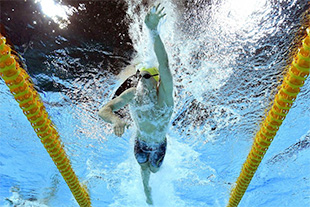 Anti Wave announces that their competition swimming, water polo and pool deck and pool programming equipment have been selected for the 2018 Commonwealth Games aquatic facility located on the Gold Coast, Australia - The Opus Aquatic Centre.
Already after the first night of Competition the Australian Womens 4x100m Freestyle team has claimed a World Record Swim time of 3:30.05, feeding off the energy of the home crowd.

Equipment selected includes Anti Wave MAXI Racing Lanes (Competition and Training Pools), SuperBlock 800 (Training pools), Lane StoReels, Lifeguard Chairs, Anti Pro Goal 1080 & Polo Fields, Backstroke Flag and Pole Sets, False Start Rope and Pole Sets, Anti Wave Moveable Bulkhead.