After the commercial success of PoolCop in 2017 and with the market growth for connect automation technology firmly assured, the automated pool management system raises more and more interest!
The most recent was that of Dominik GRAF, CEO of Dryden Aqua, who has just agreed a long term partnership with Lane HOY (PCFR). Dominik's investment for growth ensures that Lane's strategic international vision for pool products and services will be achieved, whilst bringing synergies for commercial opportunities and further concept development.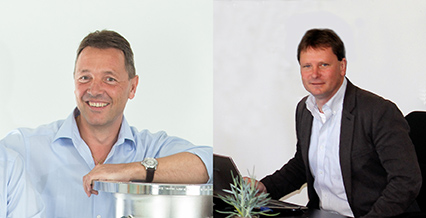 Dominik GRAF and Lane HOY

"At Dryden we support innovative ideas which make pools better. Lane comes from outside the pool market, so he asked the right questions to find good technologies and solutions. He and the PCFR team have developed an innovative system, which is now selling well across Europe. PoolCop brings significant benefits to our customers" says Dominik GRAF. (www.drydenaqua.com)

«We are very pleased about this partnership with Dominik and his commercial network. Dominik is well-respected in the market, and is a strong advocate for better pools and better business. Dominik's business acumen and his confidence in our team's vision assure our continued commercial growth and that we retain our technological edge in an increasingly competitive market segment» says Lane HOY. (www.poolcop.fr)

Together these market leaders bring technologies, products and solutions to support the pool industry in the new connected business environment.