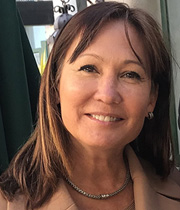 Eileen Benjamin
As of May 16, onboarding has begun for David Atencio, new Executive Director of The Pool, Spa & Aquatics Alliance (The Alliance). Eileen Benjamin, former Executive Director of The Alliance, stepped down due to unforeseen health concerns.
Benjamin and Atencio are actively communicating during this time of transition to ensure the momentum gained over the past several months continues.

There is much to celebrate in Eileen's tenure of leadership at The Alliance. The Alliance proudly welcomes the following new members: Elemental Construction, Kent Westfall Pool Inspections, Aquatic Technology Pool & Spa, Pool Chlor (Tucson), Vacation Pools, Pool Chlor (Fresno), Affordable Pools, and Vacaville Pools.
As promised, members can expect to see an expansive list of new and existing benefits, including educational offerings, as well as process improvements that keep member businesses top of mind with consumers.

Even more impressive, over the last few months The Alliance, through member association the California Pool & Spa Association (CPSA), has already made significant advancements in advocacy efforts:
• Expanding state-level government affairs representation to Arizona to advocate for water conservation and ensure ongoing pool construction and operation
• Supporting efforts by the Contractors State License Board to address the underground economy in the pool and spa industry
• Opposing the proposed tax on services like pool maintenance
• Opposing new, unwarranted labor laws that restrict the ability of small businesses to survive
• Engaging with the Department of Pesticide Regulation to utilize education rather than increased regulation to reduce chemical accidents and exposures
• Monitoring the State Building Standards Commission for changes to Title 24 construction of public pools and Title 22 maintenance of public pools
• Working with the Department of Water Resources to impact the Model Water Efficient Landscape Ordinance and other water use issues


"I am thrilled to see the value The Alliance is bringing to the pool, spa, and aquatics industry. I will be cheering from the sidelines as it continues taking shape and will remain whole-heartedly connected and supportive," said Benjamin when asked her thoughts on the future of The Alliance.
"Eileen gave us a boost of energy and ideas for growth in her short tenure," reflected Jerry Wallace, The Alliance and CPSA Chairman of the Board. "She is a delight, easy to work with, effective in her efforts, and a captivating representation of a member association. Thanks to her investment and the engagement of our members, our future is bright. Our thoughts and prayers are with Eileen on her journey to recovery."

The Alliance is fortunate to have already filled the vacancy. "We are excited to announce the hire of David Atencio, having a wealth of national and international experience in the fitness and aquatic industry. I am fully confident David will pick up where Eileen left off and cultivate growth for our members and the industry," says Thomas Lachocki, Ph. D., CEO of the National Swimming Pool Foundation (NSPF).

Located in Katy, Texas, Atencio brings to The Alliance over 20 years of industry experience. Atencio has proven ability to optimize programs and projects for quality and productivity, exemplified in his leadership of health and aquatic club expansion on three continents for 24 Hour Fitness.
Recently the Chief Operating Officer of Athlete Training and Health in Houston, Texas, Atencio is an experienced member representative, skilled at nurturing a values-based team environment. Atencio's knowledge of multi-site and multi-facility operations, as well as his expertise in organizational vision casting and business operations management, further ensure his ability to serve the interests of The Alliance membership.

For more information about The Alliance or CPSA, or for more on the transfer of leadership, contact Jacki Krumnow, PR Specialist for the National Swimming Pool Foundation, at jacki.krumnow@nspf.org.
Interviews with representatives of The Alliance/NSPF are available upon request.

About The Pool Spa & Aquatics Alliance (The Alliance) The Alliance protects pool industry businesses, enabling families to live happier and healthier lives. We make a difference by lobbying against the adoption of unreasonable laws and codes, and influence public policy on your behalf at the state and local level. Holding members to the highest standards of professional conduct in pool construction, service, and repair, we elevate our members, their products, and their services. Visit thePSAAlliance.org to join and for more information.

About the National Swimming Pool Foundation® We believe everything we do helps people live happier and healthier lives. Whether it's encouraging more aquatic activity, making pools safer, or keeping pools open, we believe we can make a difference. To further this mission, in 2018 we welcomed The Alliance to the NSPF family, now the largest member association in the aquatics industry. In 2016 we merged with GENESIS, the educational leader for designers and builders of residential pools and spas. In 2012, we launched the Step Into Swim™ Campaign, a 10- year initiative to create one million more swimmers. Founded in 1965 as a 501(c)(3) non-profit and located in Colorado Springs, Colorado, NSPF proceeds go to fund education, research and to help create swimmers.
Visit nspf.org, genesis3.com, stepintoswim.org, or call 719-540-9119 to learn more.
(Press release)