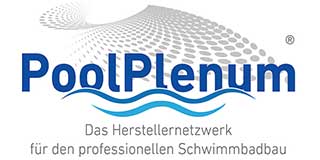 Are there manufacturers that not only demonstrate their products, but also their corporate entrepreneurial vision, innovative spirit and versatility? That have a flair for new topics and developments, and with all the enjoyment of new design, and do not lose sight of the tried and tested?
EUROSPAPOOLNEWS has found them and has also discovered sustainable partnerships.
PoolPlenum, the new network of well-known German brand manufacturers in swimming pool technology, demonstrates how to meet the growing demand for individual solutions in a collaborative manner, how to optimize both analogue and digital technologies, and how to use interfaces for both flexibility and stability. Think that sounds contradictory? Well it is not. It is the deliberate response to a more complex and interconnected world, in which there are more and more "both" and in which joint action is the key - or, to put it in industry terms, the springboard to success.

This is particularly the case for swimming supervisors who are already committed to their core tasks of safety, technology and operational management but also require a level of of diplomacy, intuition and communication skills. And that is not all. New regulations – whether these relate to the effects of the biocide ordinance on in-situ disinfection systems, changed standards or general changes in the law, such as the much-discussed GDPR – also tie up personnel and financial resources in swimming baths and municipalities.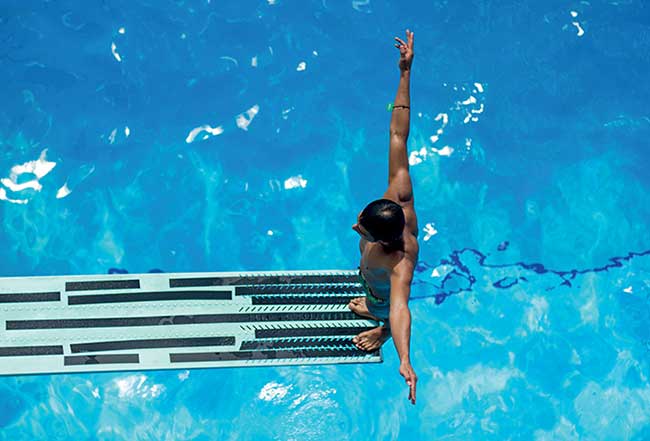 Das Sprungbret

In view of these challenges, HUGO LAHME, SPECK Pumps, VPS - Vario Pool System and WDT - Werner Dosiertechnik are focusing on solutions that, in the light of cost pressure, will pay off in the long term and work efficiently. Initially, the four companies will demonstrate this with their products.
For example, the SPECK Pumps BADU Block Multi 125/250 has better efficiency over the long term, and the plastic is tough, resistant, maintenance-free, and economical. VPS focuses on pools constructed out of PVC/GRP durable special plastics and composite steel, HUGO LAHME on the energy saving LED and the recyclable gunmetal and bronze materials along with stainless steel, and WDT specialises in the «inner workings» of measuring, control and dosing technology, and which wear-resistant parts guarantee a long lifecycle resulting in minimal additional costs.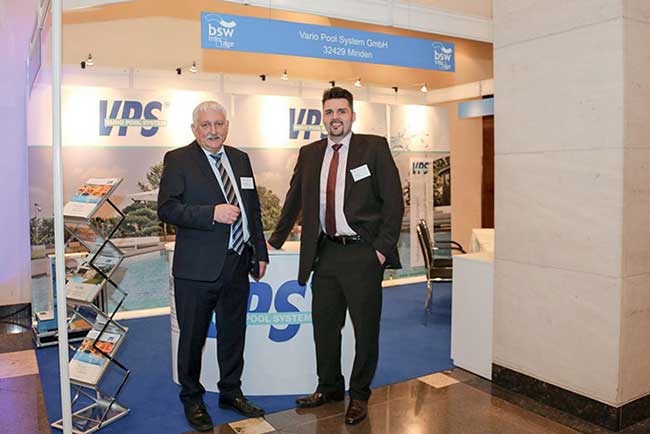 But that wasn't enough for the four companies. Their plans, long-term vision, sustainable management and targeted customer focus to adapt to the needs of today, resulted in the creation of a new network: PoolPlenum.
Purposefully, the initiators did not focus on the quantity of the participating companies, but on their quality. Anyone participating will be one of the well-known German brand manufacturers, guaranteeing great service and focusing on the evolving needs of customers and the market as a whole, furthering the development of their product ranges.

For example, HUGO LAHME's swivel-mounted «Waterfarm» LED spotlight has responded to the increasing demands in terms of design and has successfully combined both function and aesthetics: When switched off, the spotlight cannot be recognised as such, because its rear side is tiled the same as the pool itself and just looks like part of the pool wall. When it is switched on, it swivels around 180 degrees in the pool and illuminates it. On top of today's desire for greater design, there is also a need for individuality, which the PoolPlenum partner VPS can respond to, with their custom-made pools.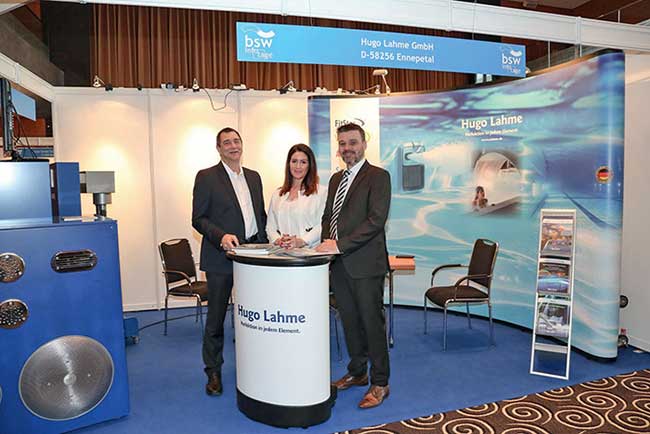 PoolPlenum members are unique in that they do not merely react to continuous trends, but are quick to respond to changing requirements. Two examples of the WDT group's versatility were highlighted when the amendment to the German Chemicals Prohibition Ordinance last year prohibited the use of hydrogen peroxide with a concentration of more than 12 percent as a chlorine alternative for privately used swimming pools, with OXYDOS they developed a device for the automatic, timed dosing of oxygen granulate. And in compliance with the current standard DIN 19643 in force, the reduction of THM and bound chlorine was resolved with the PAKDOS system.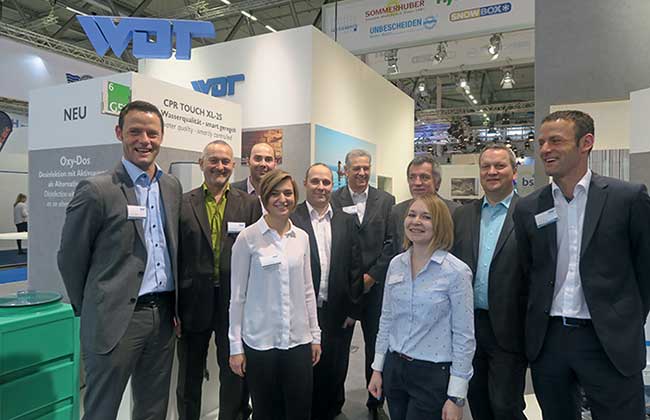 To update products, you must be up-to-date. Therefore, the four manufacturers are active in industry associations, committed to standardisation work and keep up-to-date on current topics. They know that technical support for their customers – both for specific and general issues – is indispensable for good business relationships today.
For this reason, a further aim of PoolPlenum is to provide technical support and knowledge transfer. While the four companies have already made a name for themselves in consulting and support, they still aim to further develop and increase their services as well as aspiring to provide more target-group specific solutions.
It is also important to them that they work together and offer joint training and information events. Ultimately, a pump, a pool, a water attraction or a dosing system alone do not make a swimming pool. The interaction between the individual components is crucial for swimming pools to function in an optimal and economic way. This is why the interaction between companies is so important for the four network members.
All in all, a platform should be created for experience exchange working towards optimising and reducing interfaces between the individual trades.
In the age of digitalisation, so many different things are possible. Among other products, SPECK Pumps with the BADU Genio show how the innovative Smart Home control works for private pools. Using smartphones, tablets or PC, you have access to filtration, backflushing, water treatment, temperature adjustment and attractions at all times.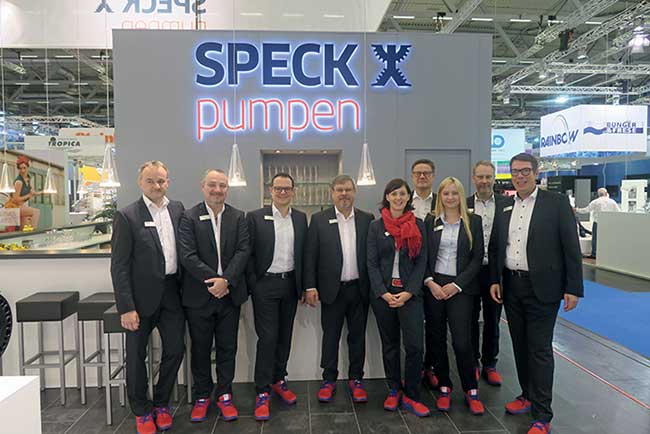 But much more is possible when the individual products can communicate with and understand each other. The offline connection between the PoolPlenum partners serves to improve online interaction between their products.
The basis for the economic operation of swimming pools is that "the left product knows what the right is doing".
The collaboration partners are also closely integrated at Interbad. HUGO LAHME, VPS and WDT are in Aisle C and SPECK Pumps are in Aisle D of Hall 4.

PoolPlenum would like to wish all visitors and fellow exhibitors a successful exhibition – and above all, successful networking!
To be discovered at interbad in Stuttgart
www.interbad.de