The company has been making, pavements and accessories for swimming pools out of reconstructed natural stone for over forty years. It is one of the leaders in its sector with over 2,000 swimming pools supplied in 2018. It works with the largest Italian distributors and over the years it has earned the loyalty of the biggest international distributors.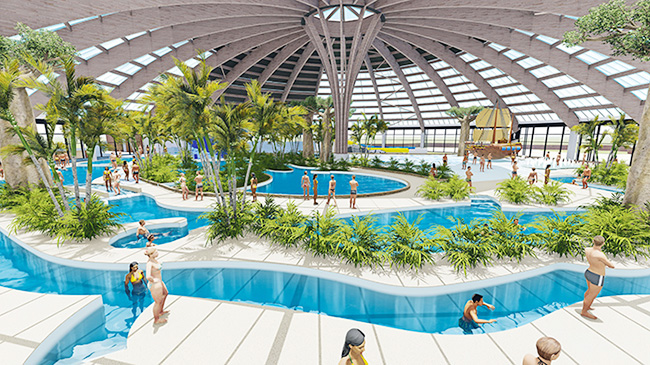 Aquatic complex of Domaine Les Ormes

ROCK POOL swimming pools, born of the ambition of the company to expand its range of products, are sold throughout Europe and in large numbers in France. This country is indeed the one who believed the most in this new system of panel, allowing to realize large projects.

Currently, CAROBBIO is involved in the construction of the aquatic complex of Domaine Les Ormes.
This camp site, located between Saint Malo and Mont Saint-Michel, is renowned and appreciated by a clientele from all over France. It has been welcoming its guests for holidays in Brittany for over 40 years, coming to live a dream holiday in a setting of 200 hectares of stunning nature. The summer of 2019 will see the construction of a giant indoor aquatic complex of 4500m², entirely untrusted to the Italian company, according to this method of patented modular self-supporting panels (Patent No 0001414134).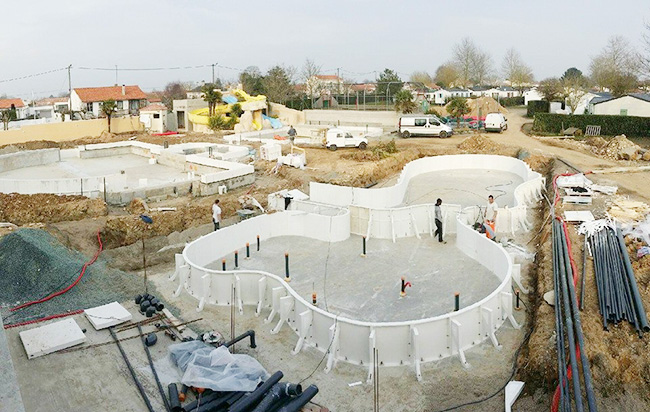 Rock Pool modular self-supporting panels

Its main innovative feature lies in the material it is made from, concrete at just 1.5cm thick, which sets Rock Pool panels apart from traditional metal panels. This solution combines the solidity of concrete with swift lead times, including the option of using all types of cladding, from mosaics to ceramics and membranes. In addition, the panels are also certified earthquake-proof.

By supplying it in an assembly kit, it is sure to be quick and easy to install (it takes just one day to assemble) and requires minimal labour (only three people are needed and no machines are required), ensuring the highest safety during installation.