Creating a new website in 2019 may seem quite original. While some of the media only choose social media networks, the very principle of a website may now seem a "has-been".
What are our reasons for offering you this brand new international portal for swimming pool and hot tub professionals?

A responsive, Mobile First website
Perfect browsing at your fingertips
Depending on the week, tens of thousands of you visit EuroSpaPoolNews just from your smartphone. It was therefore absolutely essential to offer content perfectly adapted to these devices. So we needed a more streamlined background and images!
All the more so as the latest Google algorithms attach great importance to the mobile version of websites. The advanced natural SEO of EuroSpaPoolNews is very effective. To keep our place, we had to have a Mobile First version (designed to be read on smartphones).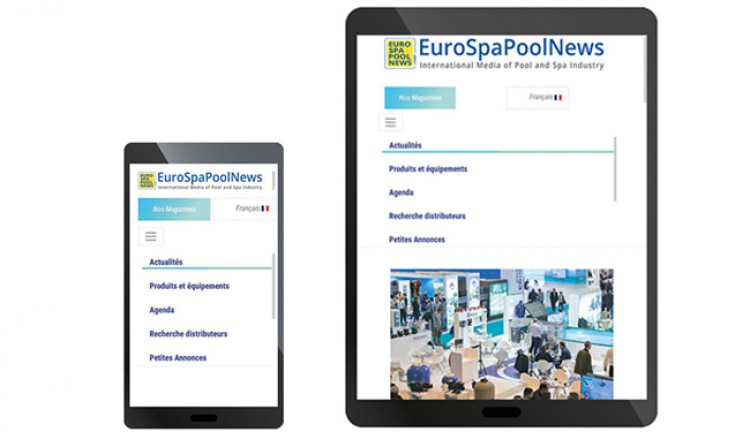 Finding things more quickly, browsing more often
The usability of the new EuroSpaPoolNews website has also been completely redesigned following the discussions we had with industry professionals.
Your demands :
to be able to find pre-published content more easily;
to be able to discover information or news during one website visit;
to be able to find info by geographical region;
to find the areas again of PROS Special, the COMMUNITIES Special Edition, or other areas still to come.
Optimisation of your digital communication

For you, EuroSpaPoolNews is becoming the top international portal for swimming pool and hot tub professionals with intuitive browsing and comprehensive content.

Focused on new audience channels
The only formula you didn't want us to touch (or almost not) was our newsletter. You are used to its format and frequency. You read it in the evening or at the weekend. Message received: a revamp of the graphics, usability adapted to smartphones, and that's it.
On the other hand, we are working faster on video, with articles dedicated to this format, adapted page usability and original highlighting.
Social media networks have also been integrated in keeping with the new website. We have more effective links between Facebook, LinkedIn and our website.
New offers for your communication
Even better adapted to convey a single powerful message, banners are no longer enough to showcase educational content. Our entire sales team has received training and support to offer you new formulas.
Without revealing here the content of the offers which our communication experts will present to you, you will be able to discover a series of devices on the website that aim to offer better tools to our partners.
The goals: greater effectiveness and detailed accounts of the activities carried out!
Meet the company EUROSPAPOOLNEWS.COM at the exhibition AQUANALE from 24/10/2023 to 27/10/2023
STAND N°A027 - Hall 7.1