After two successful exhibitions (SPATEX 2018 and Lyon 2018) Plastica felt it was time for someone else to reap the rewards of owning the Hot Dub.
Plastica's spa-in-a-car was conceived and built in less than eight weeks by its technical engineer, Jody Perkins using a convertible VW Beetle, with the added challenge of keeping the electric windows, roof and steering functional.
In fact, it was at both these trade shows that the new owners, Happy Hot Tubs saw the show stopping Hot Dub and could see its crowd-pulling potential for their showrooms and future country shows.
This family-run business was established over the past thirty years by founder Simon Hallett. Currently running with two generations and their experienced team, Happy Hot Tubs have six showrooms on the South Coast and one in the midlands. The successful spa business has plans to add two more opening in 2019. The Hot Dub, currently based in Fareham, will be touring future country shows and working its magic at various Happy Hot Tub showrooms across the UK.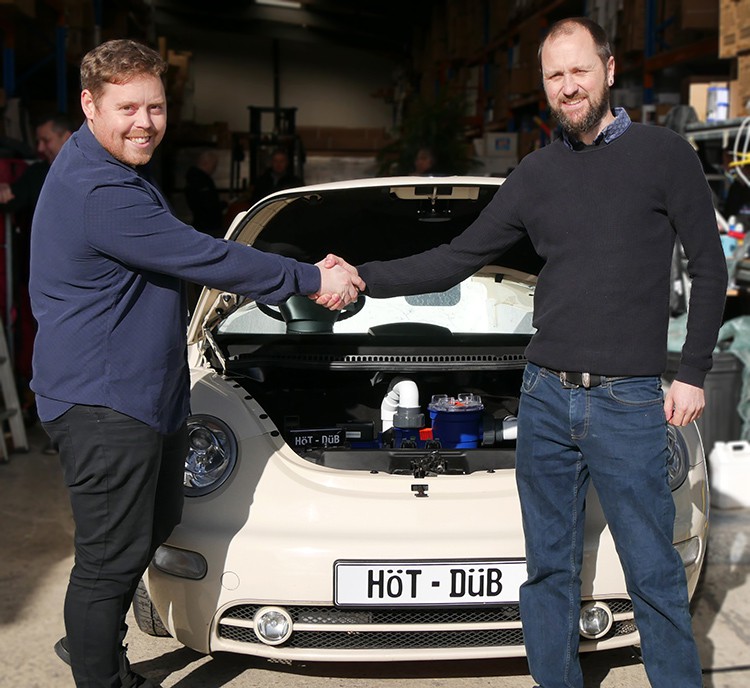 Founder, Simon said, 'We're are delighted to be the new owners of the Hot Dub and are grateful to Plastica for handing over their prized possession. It's a wonderful piece of engineering and design! We have plans to display it at our various show rooms, and even build a dedicated website to document its progress'.

So, the Hot Dub lives on, and Plastica are happy to see it go to a good home, to wow future hot tub customers for years to come!

To see how the Hot Dub was built see Plastica's You Tube channel:

To find out what Happy Hot Tubs is up to www.happyhottubs.co.uk