New Reflex Water Slide : Carving out some downtime for a family in New York State
The latest outdoor pool slide commission of Splinter Works
Splinter Works are delighted to share their latest outdoor pool slide commission. The Reflex water slide was designed to add hours of endless pool-side fun for all the family and to serve as a sculptural highlight to enhance its spectacular setting. The beguiling reflections of the mirror-polished stainless steel subtly echo the lush gardens, working in harmony with its surroundings.
The alluringly simple shape of the curving arc, looks like childs-play, but under the skin it has been intelligently engineered so it is free of visible structural armature, fixtures and fittings.
A pioneering double skinned technique

This is achieved using their pioneering double skinned technique, which allows them to create extraordinary shapes by hiding the structure of the slide inside its visible form, making it appear unsupported. Only Splinter Works slides use this double-skinned design.
Water is released in a series of outlets that cool the entire sliding surface in the sun, making it nice and slippy, and giving added whoosh to the ride for thrill seekers young and old! Water also flows through the handrails keeping them cool to the touch. Made from marine-grade stainless steel, it will not corrode, and is built to last a lifetime. Made from sheets of stainless steel, it was meticulously crafted by hand, and formed into the sculptural structure by the eye of skilled artisans.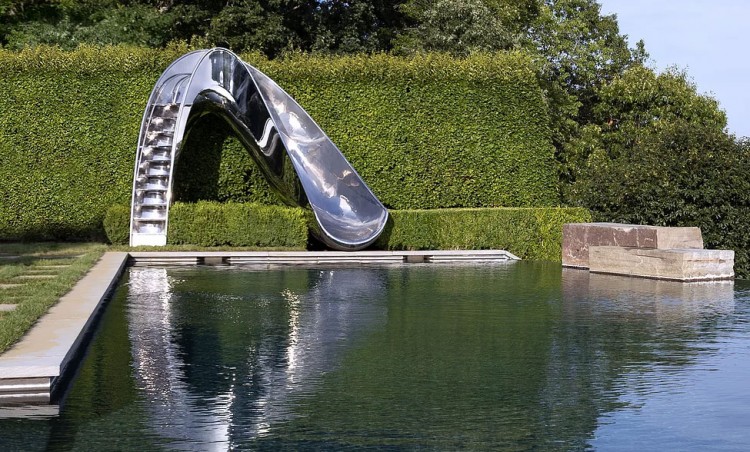 Safety engineered into Splinter Works' water slides

Safety is engineered into all Splinter Works' luxury water slides from the outset. With grip underfoot and drain holes on the steps, and an easy-to-grab handrail that is incorporated seamlessly into the sculpture, the water slides are designed to comply with European or US safety standards (BS EN 1069-1 2010 or CPSC Code of Federal Regulations 16 part 1207).