25 years celebrated in prague
About 300 pool professionals gathered on 27th September at the Art Restaurant Mánes in the center of Prague to celebrate the 25th anniversary of Vágner Pool. Coming from 22 nations, the guests attended a presentation of the company, during which the six partners - Jan Sic, Petr Simoncík, Miloslav Cahoj, Milan Vágner, Jirí Rousek and Libor Vogl - thanked the guests in different languages. The event continued with a gala dinner and live music.
Various brand represented
Specialists in distribution in the Czech and Slovakian markets, the company represents various brand, notably, Chemoform, Dinotec, Zodiac, Pentair, Saci pumps, IML, Pahlen, Speck Pumpen, MTS, Bio-UV, Propulsion Systems, Flexinox Pool, hayward, Hexagone, Plastica, FIP ... and some of them with an exclusive representation. Vágner Pool also manufactures electric heaters, heating pumps, electronic control systems, a range of stainless steel accessories for swimming pools and also reel systems.
They export their production to various countries in Europe, thanks to the support of many distributors. Each year they produce more of their own products. Currently the warehouse (located near Prague and also in Zadar/HR) is approx. 6,000 m² indoor and 2,000 m² outdoor with a total capacity of 7,000 pallet places.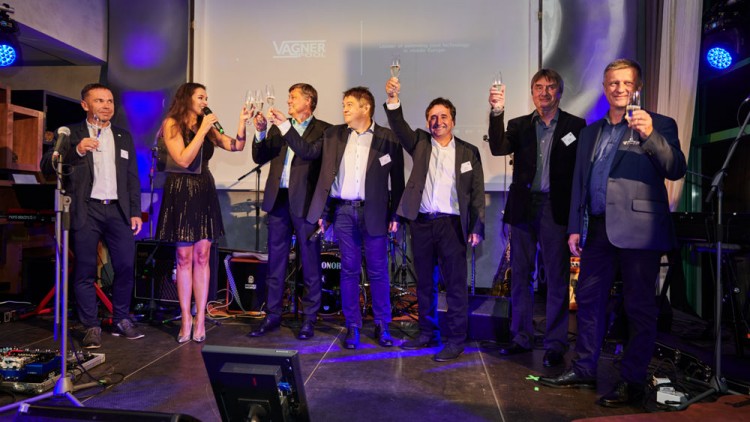 Years of experience in the pool equipment
The services offered by the company also include customer advice. Thanks to years of experience in the field of pool equipment, they offer their customers consultations in the field of construction technologies, filtration systems, heating systems, water treatment products and maintenance of different types of pools.
The Hotel Burj al Arab Terrace is the most visible project which Vágner Pool supplied. They also made complete configuration of the whole swimming pool technology supplying the project. This latter was made for 2 swimming pools of 11x80m and 4 spas of 4x4m included filters, pumps, control and dosing water treatment, blowers, UV-sterilizers and total electric control with internet access.