Innovations for treating water in residential and public swimming pools
Pool Technologie is a key player in the industry for swimming pool water treatment. For the international trade fairs Piscina & Wellness and Aquanale, Sarah Guezbar, the Executive Director, and Philippe Grard, the President, are presenting the best moments of 2019, their new generation of electrolysers, and the growth of Pool Technologie on the public swimming pool market.
The top 3 moments of 2019 for Pool Technologie
2019 has been marked by 3 major high points for this company that specialises in treating swimming pool water:
the production launch of the new "Pool Technologie" range that was presented at Piscine Global Europe 2018
the Pool Technologie seminar, whose main theme was "how to provide a comprehensive and suitable response to our customers?"
the introduction of new custom exclusive ranges ranges for its customers.
A new generation of electrolysers that is full of promise
This new generation of electrolysers for treating pool water, which comes under the Natural Pool®collection, comes in three ranges:
the Fresh range is aimed at a wider audience and is for smaller pools;
the Cleanrange, at the heart of the market, meets the various needs and expectations of both consumers and professionals;
the Pure is designed for the needs of Premium customers, who naturally have more requirements.
With this new generation of pool electrolysers, Pool Technologie hopes its customers will be able to enjoy all of the recent technological advances and offer them products with a design that is exclusively reserved for them. This new generation aims to significantly improve user experience, whether they are professionals or private customers.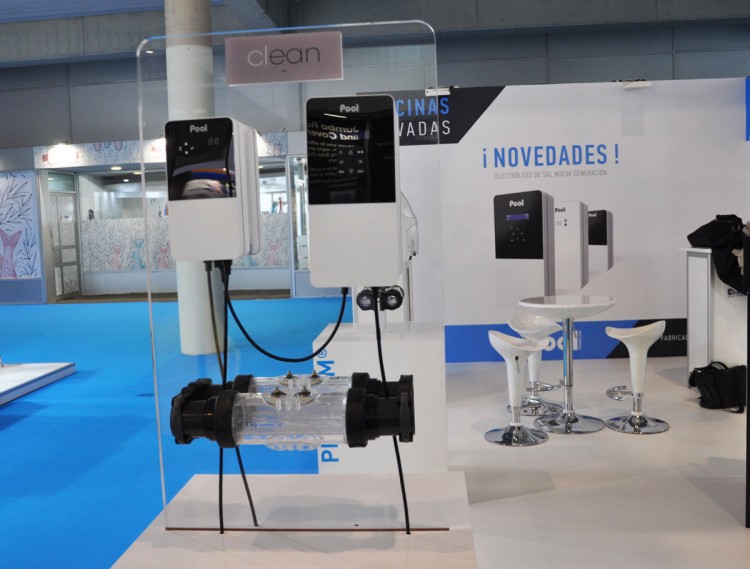 New generation of Natural Pool® electrolysers presented at Piscina & Wellness 2019 on the Pool Technologie stand
Public swimming pools are a growing market for Pool Technologie
2019 has undoubtedly confirmed the relevance of Pool Technologie's strategy to focus on the public swimming pool sector. Pure Chlore®, initiated in 2008 at the Lyon trade fair, is now really bearing fruit. So, in 2019, a Pure Chlore® installation was used for several activities, such as for treating drinking water, treating slides, treating of a play area and treating of a pool, all of which took place on a 35-hectare campsite that welcomes simultaneously up to 7,000 people during the summer.
A real takeoff of sales in 2019 has also confirmed the market's expectation for this new innovative technology that is more respectful of the environment. Pure Chlore® is still undergoing various developments focusing on innovation and efficiency for easy use and maintenance.
Thanks to how close it is with its customers and led by an approach that strives towards ongoing improvement, Pool Technologie continues to demonstrate its determination to make no compromises on the quality of its materials and to offer durable innovative products.