"Alexa, start the Poolboy", "open the cover" : focus on smart Pool
Emphasis on the social and aesthetic aspects
Social conditions also have a role to play in the swimming pool and wellness industry. Increased awareness surrounding health is bolstering the demand for active relaxation, the ageing of the population is making comfort products "socially acceptable" and neo-ecology is creating energy-efficient solutions. In addition, the private pool and spa facility market benefits from people's homes developing from being a purely residential location to a place that is used for personal, business and social events. Private pools can be used for both fitness and well-being, as well as being the focal point of any garden party. Unforgettable moments can be created surrounded by matching outdoor furniture, a cool barbecue and spectacular fire elements. And "Hygge" - the current attitude to life that emphasises "the really important things" - is also a consideration. It focuses on idealised values, such as spending time with friends, being there for your family and experiencing happiness. To sum it up, the emphasis is on the social aspect, but aesthetics are an important part of the picture, too. Staying in contact in an attractive atmosphere is what really counts today. So as cosy and stylish as the home of today is, it is also just as modern and digital. The Smart Home is the buzzword of the moment, and the swimming pool industry is more definitively heading in the direction of the smart pool.
Control the pool via voice commands
Here are two examples:
We already know about horse whisperers. Well know it's time to welcome the "pool whisperer" in the form of the BEHNCKE Poolboy. It does what the pool user desires and listens to their voice. A dream within a dream pool, as it were. The BEHNCKE Poolboy is an Alexa Skill that, in connection with the BEHNCKE Connect controller, can control the pool via voice commands.
"Hello Alexa, start the Poolboy." The BEHNCKE Poolboy responds: "How can I help you?" "What is the water temperature?" "29.5 degrees". "Please open the pool cover." And the pool cover opens. "Start the counter current system." The water starts flowing. "Please stop the counter current system." The system turns off. "Start the fountain shower." That's nice, isn't it? Not just the splash of water on your neck, but most of all the simple control. While remote controls and touchscreens were previously thought to provide limitless comfort, BEHNCKE - which is "always one idea ahead" according to their company slogan - goes one step further. As there is so much to be controlled, connectivity is key - for example, for cover manufacturers and pool attraction providers. BEHNCKE and SCHMALENBERGER are displaying how this works from their connected, adjacent Stands D 40 and D 41 in Hall 6 at Aquanale.
The Smart Pool is also key for GRANDO, the cover specialists. In Hall 6, Stand D 30, the company will be demonstrating how its roller covers can be controlled using Alexa or Alexa alternative voice commands. GRANDO is very flexible in this regard, and also provides other control alternatives via the GRANDO app. If you prefer typing to speaking, you can command your cover to move "forwards", "backwards" and to "stop" via your smartphone - all while relaxing in your deck chair and enjoying the pool view. Because you cannot always keep an eye on everything, "Auto-open in high-wind conditions" can be activated so that the cover automatically opens as soon as a strong storm starts brewing, so that it is not damaged.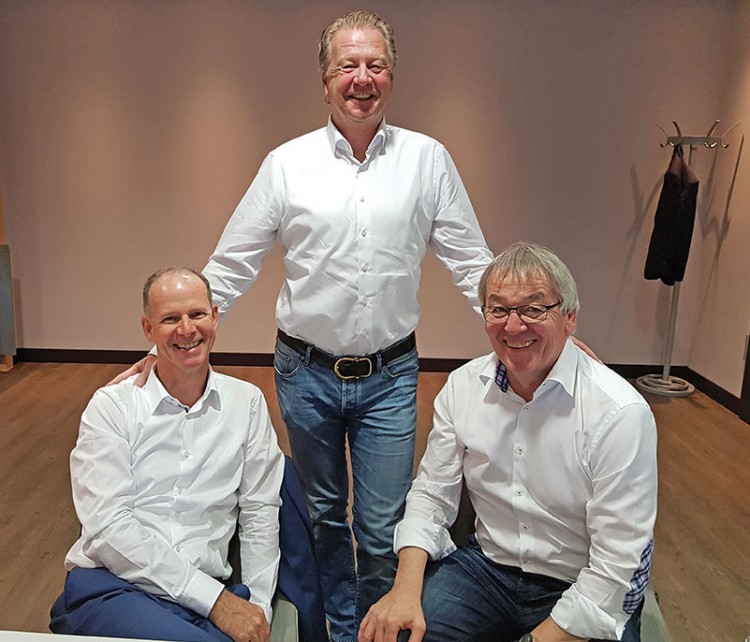 bsw-President Dietmar Rogg, bsw-Vice President Bert Granderath and bsw-Managing Director Dieter C. Rangol: Before products can be connected, people need to be connected
The importance of professional networks
Protection from severe storms is essential, but a breeze of fresh air can do some good. And that doesn't just arise from networking on a digital level in the product area. It also arises when people get a chance to network on an analogue level in order to act "strongly together", to exchange ideas and to benefit from meeting in person. To achieve this, the industry association BSW and other networks exist. Here are two industry examples:
HUGO LAHME (Hall 6, D 20), SPECK Pumpen (Hall 6, C 20), VPS - Vario Pool System (Hall 6, D 23) and WDT - Werner Dosiertechnik (Hall 6, E 50) have established PoolPlenum, a new network, which has the aim of providing a platform for exchanging experiences in swimming pool technology, expanding knowledge transfer, technical and planning support, and optimising interfaces between individual trades. Joint training measures and information events are also offered. The kick-off meeting took place on 4 November.
And another network within the industry has already met for the third time. The Next Pool Generation, a group of young swimming pool experts within the Bundesverbandes Schwimmbad & Wellness e.V. (BSW) industry association. Susanne Rengers (RIVIERA POOL, Hall 6, C 10) and Dennis Schikora (SUN-POOLS SCHIKORA) have brought together young professionals from the pool and wellness sector to join forces to firstly work on the topics of qualification and further education and also to create a platform for them to get to know each other, exchange ideas and anchor the wishes of the next generation in the industry association.
Exchanges with new and existing business partners are also at the forefront of Aquanale. Eurospapoolnews wishes all attendees every success in Cologne, with good networking for good business opportunities.