A new production unit in Switzerland for AFM®
A sophisticated and sustainable glass processing factory
Because of the big success of AFM, the capacity of the company's factory in Scotland has reached its limits. Dryden Aqua have therefore built, in 9 months, a new 7,000m2 production unit in Switzerland. It is announced as the most sophisticated and sustainable glass processing factory in the world, is fully automated and has a capacity of 30,000 tons of AFM per year.
100% of the electrical consumption will be powered by solar energy and for the washing process they will use 100% rain water.
Dryden Aqua want to keep the Earth green and supply the pool market with what they consider to be the best technology: AFM.
AFM benefits :
100% bio-resistant filter media
AFM® is a filter media which fully prevents biofouling and channelling inside sand filters. Thanks to this feature, AFM® provides safe water, stable filtration performance and prevents the formation of harmful chlorine smells (trichloramines).
Among the finest filtrations
With a certified 4 micron filtration rate, AFM® surpasses the performance of sand and any other glass filter media to provide exceptional water clarity. Because what can be filtered out doesn't need to be oxidised with chemicals, AFM® will also reduce chlorine consumption and pool maintenance.
The most sustainable filtration
AFM® saves resources such as water, chlorine and energy thanks to more efficient and slower backwashes (>40m3/h/m²). According to the company, it will also last much longer than any other filter media for a guaranteed return on investment.
Adapted to all types of sand filters
AFM® can be installed in all sand filters without the need of additional investments in infrastructure.
Unique self-sterilising surface
Dissolved oxygen and water molecules are transformed into free radicals on the surface of AFM® (catalytic reaction)Bacteria are unable to stick on the surface of the grain to form biofilm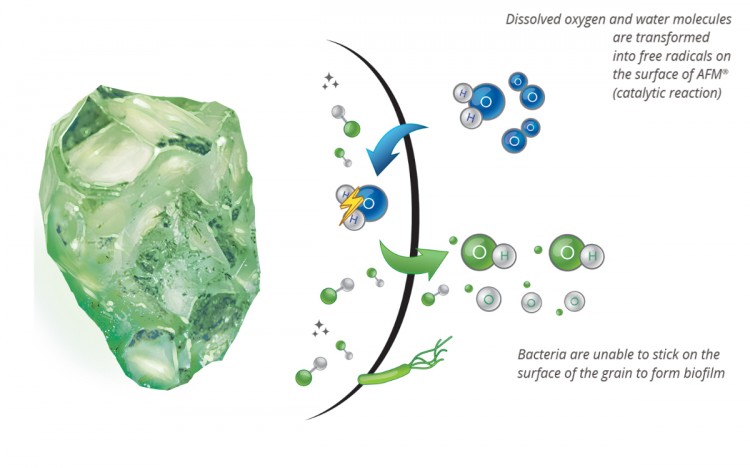 About Dryden Aqua
They are marine biologists specialising in swimming pool water treatment. Their mission is to eliminate toxic disinfection by-products and provide the best air and water quality on the market. For over 35 years, Dryden Aqua has been working with chlorinated systems for Dolphins and other aquatic mammals before successfully introducing its technology to the pool industry.
Today, as a testament to the performance, safety and benefits of his water treatment solutions, over 500,000 swimming pools worldwide are using its products.