Online sales support tools for pool professionals
Due to the heavy use among the general public of social media networks, SCP developed various tools to use online several years ago and made them available to professionals. These different platforms available on the web allow swimming pool specialists to get information, place their online orders and follow their development from anywhere, but also to support their customers with advice and the best possible recommendations on purchases.
Several internet websites dedicated to pros
The Pool360 website covers orders, delivery routes, references for products sold by SCP, commercial and technical documents, exploded-view drawings and spare parts.

The website for water treatment is www.acti-chemical.com. Swimming pool specialists can also download the Actisoft water analysis software from there for free, so they can receive recommendations on treatments depending on the analysis conducted by the test strip or photometer.

The www.swimmingpool.eu website allows professionals to provide the best advice for their customers on the right heat pump.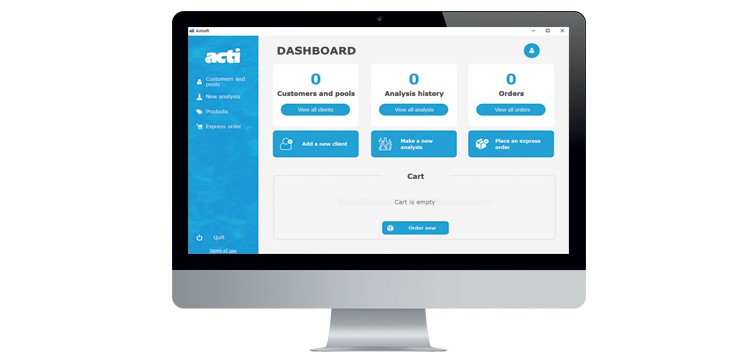 Actisoft software home page
Catalogs and online tutorial videos
Four catalogues are also available online: the general 2020 catalogue, commercial pools, shutters and covers (in French) and the one for spare parts (in French and soon in English).

The SCP Europe YouTube page helps swimming pool specialists to set up and run many pool products: How to start the automatic water treatment regulator, how to adjust the set point, calibrate the redox probe..., videos on Wellis spas, Beachcomber spas, robot cleaners to install, etc.
All these tools to help sales are useful for professionals, along with the daily support available at SCP branches, while respecting the values held dear by the company, i.e. service, solidarity, commitment, performance, respect and fun.