Being stronger by working together
During the lockdown of Coronavirus the team at BISHTA and SPATA (Jan Hardy, Sallie Leslie-Golding, Isabel Lock, Debbie Thornton and Caroline Cross) and also the SPATEX team (Michele Bridle, Helen Mulingani, Thay Castro, Penny Farmer) both lead by Chris Hayes, didn't waste any time.
The various committees, not only of BISHTA and SPATA but also BSPF, PIP, and SPATEX were called into action, and their respective plans started to formulate to support members and exhibitors in the way forward.
Covid-19 Support Tools
A new page was established on the BISHTA and SPATA websites specific to Coronavirus Covid-19, which is accessible to the whole industry. This means that you don't need to be a member of BISHTA or SPATA to view this information. Eventually, this page will be moved to the secure online Member's Hub, but the trade associations felt it was important that the whole industry work together and pull in the same direction in these unprecedented times.
Chris Hayes wrote to The Rt Hon Alok Sharma MP, Secretary of State for Business, Energy and Industrial Strategy to state a case for the industry when the Government were highlighting various industries as 'essential'. The industry also contacted the Health and Safety Executive (HSE), Public Health England (PHE), Sport England, and Trading Standards to lobby on the importance of the services concerning water hygiene management.
Visitors to the Trade Association Coronavirus pages will find helpful documents such as the Pool and Hot Tub Industry View on Coronavirus and Coronavirus Q&A for both BISHTA and SPATA.
Workforce Safety
For workforce guidance, companies can download a very useful infographic which provides simple visual advice for those continuing to work onsite during the Coronavirus pandemic. This poster can be downloaded and displayed in workplaces, used for training, carried in work vehicles and used as a reassurance to customers on your companies' safe working policies.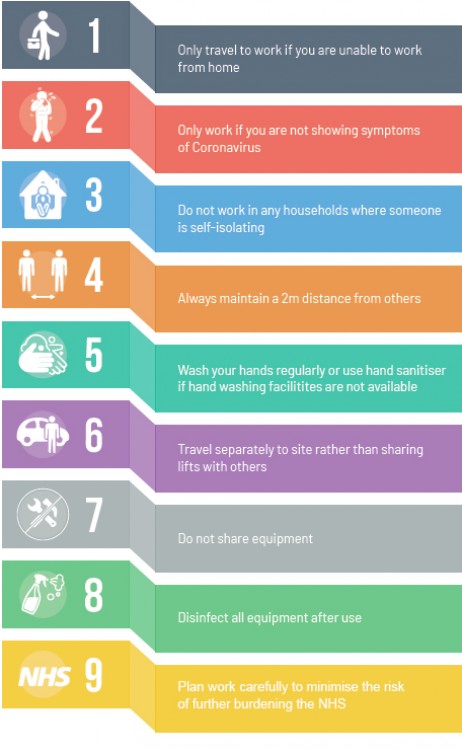 BISHTA and SPATA webinars to be continued
BISHTA and SPATA have been providing weekly online webinars for members since April. The webinars are a mix of technical content (on subjects such as Standards), updates on Covid-19, and they are also an opportunity for members to network with each other. The webinars will continue online for the foreseeable future and the list of topics covered so far includes:
SPATA: Coronavirus Industry Update, Overview of British Standards Online (BSOL), SPATA Standards, Making the Most of your SPATA Membership and SPATA Inspections.
BISHTA: Coronavirus Industry Update, Making the Most of your BISHTA Membership, Planning Showroom opening to the Public and Education & Training Options for BISHTA Members.
If any members missed these presentations, they are available to view in the online Member's Hub and those specifically related to Covid-19 are on the public page.
Get informed too about the latest news of the promotion campaign and many industry support actions "to Move Forward Together".