A high-quality service delivery everywhere in Europe in the shortest time
In order to better serve their European partners, making their acquisitions simple and efficient so as to achieve win-win cooperation, PHNIX, a leading pool heat pumps manufacturer, established European Service Center and has successfully put into operation on August 15 this year.
The continuity of its service policy for partners
This new European Service Center can be a consolidation and upgrade of its existing service system and benefit to fully implement its service policy, ensuring service quality, protecting the interests of its cooperative partners and further enhancing PHNIX brand image.
The service center can provide European cooperative partners with an efficient and comprehensive after-sales services, including:
on-site guidance and product maintenance,
spare parts inventory and fast delivery,
regular training and technical seminars,
product inventory and new product display,
new product testing, etc.
"As a first-class heat pump manufacturer, we attach great importance to customer service. The establishment of the European service center has greatly improved the speed of our service to our European partners. Also, it provides possibility of field testing for our product against the European environment and climate, giving more support for our continuous R&D of products that are more suitable for the European market as well. Not just our European Service Center acts as a quick point of contact for assistance and after-sales services, an overseas warehouse for accessories and heat pump products, but also a way to provide customers with trendy information of new technologies and professional training. We believe that the commissioning of the European service center will bring our customer service to a higher level, achieving a win-win cooperation with our partners, and further developing the European heat pump market." Said Howard Zhang, PHNIX vice sales director of swimming pool products division.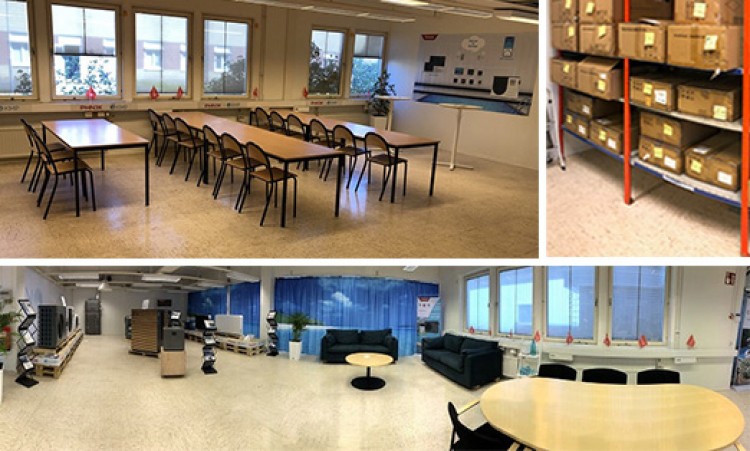 Phnix European Service Center in Sweden
PHNIX' European partners can enjoy many services
Field Service
When an error occurs and cannot be eliminated and resumed through email communication or telephone support with the after-sales team in China. The after-sales team will analyze the fault level and decided to send paid on-site services to the field. Professional engineers who are sent to the site will be responsible for fault analyzing, troubleshooting, restoring machine operations, and providing on-site training for equipment maintenance personnel.
Spare Part and Product Inventory
Covering an area of 500 square meters, the service center is also a warehouse for some of the finished products and spare parts inventory. So it can satisfy the demand for urgent orders and spare parts.
Display of Latest Developed Product and Technology
PHNIX is committed to the research and development of heat pump products and has owned an industry-leading R&D center at its headquarter in China. In the European Service Center, the latest innovation and technologies will be showcased, so that their European partners can acquire the first hand technologies in the heat pump industry and conduct all-round tests on the new products without bothering flying to China. Quickly, the partners can take the lead in putting the new products into market for promotion and sales.
New Product Testing
In the laboratories of PHNIX headquarter, the newly developed products will firstly undergo various comprehensive performance tests and then transported to the service center for field testing, which can ensure perfect local adaptability against European climate.
Technical Training
Their professional technical team will hold customized professional trainings for customers regularly, including product application and installation, after-sales problem handling, new product display and new technology application, etc.