Myrtha Pools is pleased to return to the centre stage of major events, installing competition pools to millimetric precision and in record time. In just two weeks, the CHI Health Center in Omaha was transformed from a basketball arena to an aquatic centre ready to host athletes, coaches and fans. After the success of Wave I in Omaha, the decisive Wave II event will happen in June 13th to 20th.
A competition pool and a warm-up pool for the qualifying event for US team for Tokyo Olympics
Months of hard work by engineers, architects, our production team out of Italy and our USA branch, has once again proven to be successful, installing both the competition pool and the warm-up pool in the CHI Health Center Arena in Omaha in less than 2 weeks. As evidenced by John Ireland, Myrtha Pools USA Director of Technical Services: "The arena has an expensive floor, so we built the pool up from the existing deck basketball arena and now it looks like the main pool was here from day one, and it's literally the fastest done in the world".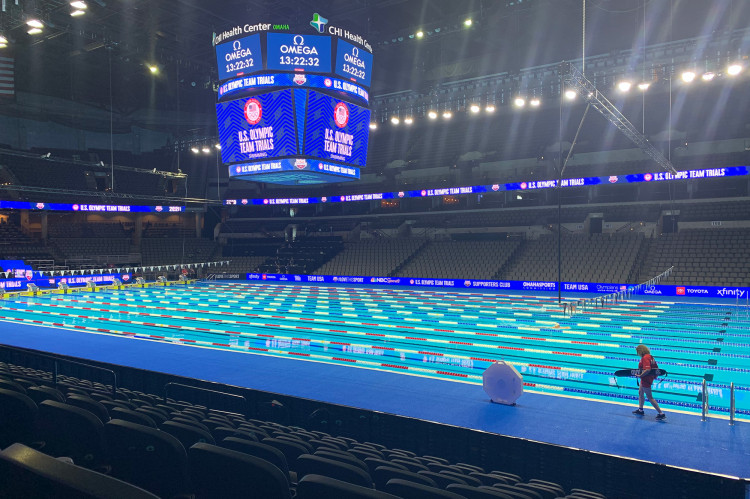 Myrtha pools competition pool at Omaha CHI Health Center (USA)
A remarkable achievement also for Mike Unger, Chief Operating Officer of U.S. Swimming: "Trials are a such pressure situation, but the build itself with the pool is so important (...) and Myrtha Crew has been phenomenal".
Thanks to its exclusive technology, Myrtha builds swimming pools for large sporting events, in just a matter of days while ensuring sustainability and durability. In fact, at the end of the event in Omaha, these two pools will be dismantled and installed in two permanent swimming centres in the United States of America. But this is another story.