Piscine Connect 2021 is scheduled for Wednesday October 13 and Thursday October 14. You can already register to participate in this great exchange and business platform for the Swimming Pool and Spa industry.

Take part in the 2nd edition of the digital swimming pool & wellness event

Piscine Connect is the digital event dedicated to pool and spa professionals. Complementary to Piscine Global Europe 2022, Piscine Connect helps you grow your business without leaving your office!

Webinars, new products and innovations, news about market trends in one place...
From your office or the comfort of your home, between two meetings or when you have a quiet half-day, use your computer to connect to a digital event at which everything has been done to make life simple. You can already register online.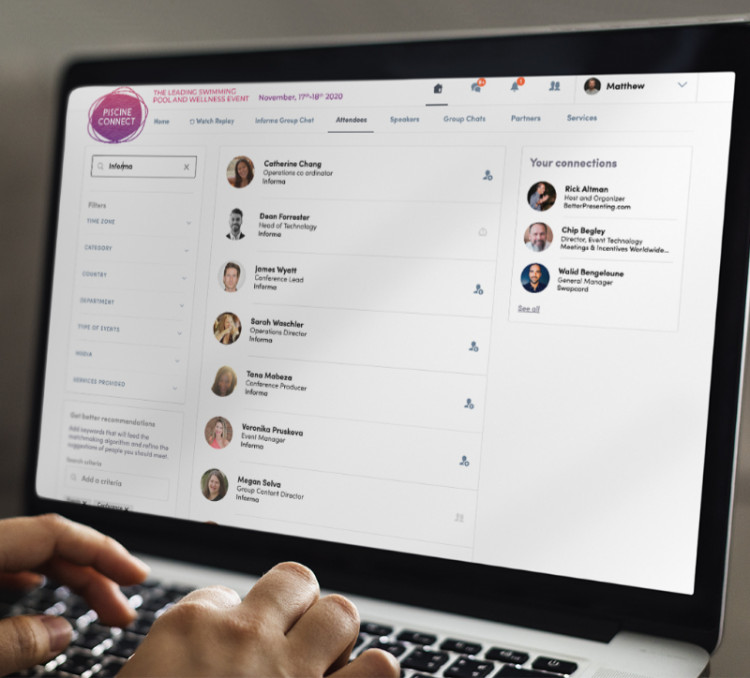 Register to participate in the Piscine Connect 2021 digital platform
Piscine Connect is a unique opportunity to find webinars, innovations for swimming pools and networking in one place! Over and above making it possible for exhibiting suppliers to respect their sales launch schedules, this digital event, accessed via an application and a Web platform also targets a wider public, sometimes more distant geographically or less "mobile". In this way, manufacturers and buyers from around the world can network, chat, set up business video meetings and grow their businesses.
A connected and different event-driven experience, Piscine Connect 2021 will yet again be a place for discussions and experience-exchanges for the whole international pool and wellness community.
Serving the Pool & Spa sector, Piscine Connect provides an intermediate solution and alternative way of meeting up to the live Show, Piscine Global Europe, which will be held from 15th November to 18th November, 2022.