As Jamie Smith, the British Swimming Pool Federation's President, ends his two-year period in office; we asked him to reflect on his time as BSPF President.
The BSPF was formed in 1999, and members include BISHTA, SPATA, SPATEX, PIP, and the STA. The President chairs the BSPF board meetings made up of representatives from the above membership and is a figurehead with a multifaceted role, including activities such as the annual Industry Gala Evening, the President's Weekend, the BSPF AGM and attending committee meetings involving the BSPF membership.
Before Jamie handed over his chain of office at the annual Industry Gala Evening and Awards held during SPATEX in Coventry this year, we interviewed him about his time in office.
Can you tell us a bit about you and how you managed the challenges of balancing the Presidency with your everyday life and work role running the London Swimming Pool Company?
It was an exceptional period in which to carry the mantle of President! I certainly could not have foreseen that we would not be able to see BSPF members in person for nearly two years, but we all learned to work around the COVID-19 pandemic. Not having held an honorary presidential role in the past, I really didn't know what to expect when I accepted the invitation to be BSPF President, but I am glad to say that the role is far from onerous. The BSPF office provides a lot of support with everything from information to organising events such as the President's Weekend. I had to make time for various BSPF activities, but these didn't impinge on my business's day-to-day running.
What did you set out to achieve when you started your role as President, and have you accomplished them?
I was pleased to have the opportunity to represent an industry that I have worked in for more than 20 years and feel passionate about. I wanted to follow in the footsteps of my predecessor and wave the flag for the industry at national and international meetings, and I was excited at the prospect of playing a pivotal role in the British Pool & Hot Tub Awards night at the annual Industry Gala Evening. Of course, it wasn't possible to be at meetings in person, but that did not prevent me from taking part in key events online. For example, I attended a virtual meeting of WAPSA (World Alliance of Pool and Spa Associations). It was fascinating to hear about our industry counterparts' pool and spa experiences, issues, and opinions in countries like the USA, Australia, Mexico, Brazil, and Europe.
What have been your highlights as President?
Apart from working more closely with the BSPF team, there were two major highlights. One was the 2021 British Pool & Hot Tub Awards ceremony, which moved online for the first time due to the pandemic. My task involved pre-filming at our office; the film crew were excellent and made the whole process such an enjoyable experience. Watching the Awards Ceremony on the night made me proud to be part of this event and the BSPF for pulling off such a professional online event. It's great that we were still able to reward outstanding work, despite not being able to host a live event.
The second highlight was the President's Weekend - this was a complete joy. By that time, we were able to come together in person and my wife Caroline and I were able to host this event in the historic town of Windsor. It was an excellent opportunity to network with industry friends, colleagues and peers, sightsee and enjoy downtime in great company and beautiful surroundings.
Interview with Jamie Smith about his time as BSPF President
What has been the most challenging aspect of your role as President?
Being President throughout the COVID pandemic, which started a month after I took up the Presidency. Without the lockdown, we would have had more face to face interactions and been able to travel for international meetings. For example, I would have attended European pool shows during that period, but it was impossible. Many of us transitioned to online meetings without too much angst and kept connected that way!
Do you have any advice for Pete Grinnall as your successor?
Simply enjoy the experience!
The chain of office was passed over from Jamie Smith to Pete Grinnall as the incoming BSPF President in a presentation at the recent annual Industry Gala Evening in February 2022. Pete was BISHTA's Chairman from 2018 to 2021; he also sits on BISHTA's Technical Committee and is BISHTA's representative on discussions relating to the wiring regulations on behalf of the industry. He has worked in the electrical industry for all of his working life and is the joint owner of Complete Spas. Pete will be planning his President Weekend in 2023, which is open to anyone working in the industry and will be hosted in Liverpool.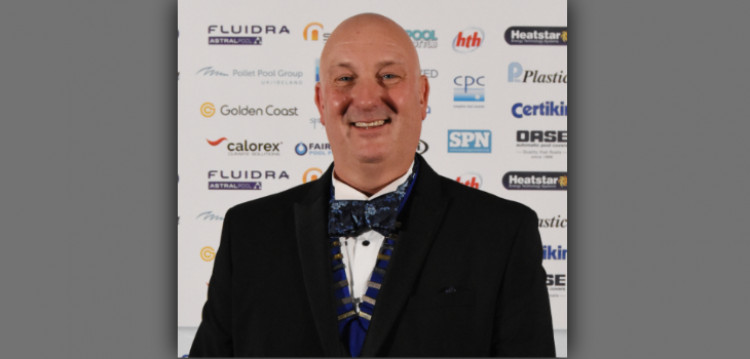 Pete Grinnall, the new BSPF President