The reason people buy a hot tub is to have a product that brings wellbeing and fun to their home, so many purchasers will understand there will be ongoing costs. They also understand that they are purchasing a luxury item and that using a hot tub during the winter is when the benefit of the warm water is at its maximum, but there will be higher running costs at this time of year. Rather than spend money on entertainment outside the home, they can use their hot tub whenever they choose and enjoy the health benefits and the 'holiday getaway' wellbeing feeling that using a hot tub can bring during the winter.
BISHTA's experience based on members' feedback regarding their customers' purchasing decisions
When consumers purchase a hot tub, it is very often a very considered choice rather than an impulse buy. Therefore, most consumers will have considered how much it costs to buy and what it costs to run.
BISHTA's (British and Irish Spa and Hot Tub Association) experience as the hot tub industry association for more than 20 years is based on members' feedback regarding their customers' purchasing decisions.
There are various types of hot tubs, and some are better insulated and energy efficient than others, often dictated by price. For instance, inflatable spas are an excellent introduction to hot tub ownership and often cost between £500 and £1,500 (with some companies even discounting them below £500), which means they can be much more of an impulse buy. To reach this price point, these spas can have a limited lifespan and will typically cost more to run than some other hot tubs, which are more energy efficient and better insulated.
Consumers can purchase an acrylic hot tub from about £5,000. Any acrylic hot tub costing less than £3,500 may have had to reduce the energy efficiency and insulation properties of the shell and/or cover. Although less to buy, these types of hot tubs will then cost more to run over the hot tub's lifespan.
From a safety viewpoint, people must not try to add extra insulation to their hot tub themselves, as this could be a fire risk and invalidate the hot tub warranty and your household insurance. So always consult a professional retailer about buying properly insulated products in the first place.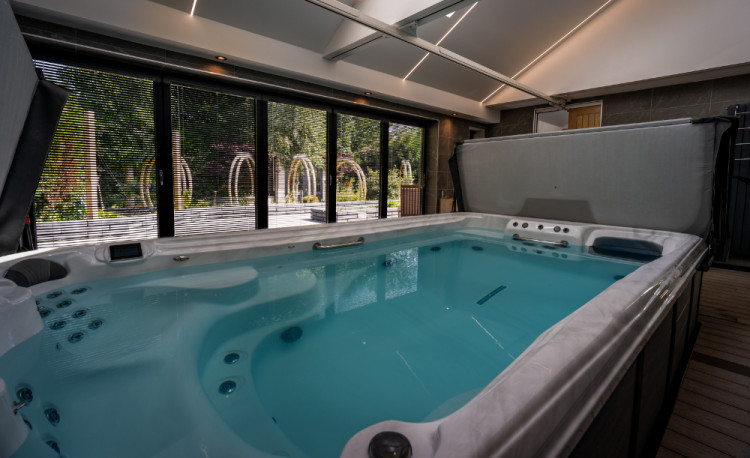 North Spa swim spa, Gold Award at the BP&HT awards 2022 (BISHTA winner's)
As most (but not all) hot tubs rely on an electric heater to warm the water, energy prices are essential to the hot tub running costs. Therefore, it is imperative to research actual running costs rather than claims made by the retailer, so ask for any independent evidence. Based on your research, it may be more cost-effective to pay a little extra for a well-insulated hot tub; otherwise, the extra running costs for less well-insulated hot tubs will soon add more money overall.
The amount of usage should be a consideration, obviously; the more the hot tub is used - where the cover is off, and the pumps (and blowers, where fitted) are running - the more it will cost to run as, not only do you have to factor in electricity required to drive a pump or blower, but an agitated, aerated water surface will lose heat faster than water which is flat calm.
Whether a hot tub is installed indoors or outdoors will also affect running costs. An indoor hot tub typically has a much higher year-round ambient temperature than an outdoor hot tub, which will mean lower running costs than an outdoor hot tub. However, an indoor hot tub will require specialist equipment installed to keep the humidity and temperature of the air indoors at comfortable levels.
Therefore, to summarise the considerations mentioned above, the costs will vary enormously and depend on many factors, including the amount of usage (as they may not be used daily), the water temperature, the ambient temperature, and the unit price of the heat source (usually electricity). It will also depend on the quality of the hot tub and the insulation (of the shell and the cover), as the most efficient models retain the heat to minimise the need for reheating them. The placement of the hot tub will also affect the running costs, and many owners decide to site their hot tub raised on decking and covered with a gazebo or other structure to provide shelter and enhance the use of their hot tub.
When budgeting costs, it is also practical to include the cost of chemicals, which all hot tubs with circulation and filtration systems require (to keep the water hygienic). The cost of the water replacement periodically required is relatively small (given most hot tubs are about 1,000 litres (1m3) and the cost for water is about £5 per 1m3.
It is realistic to compare the relative cost of other daily purchases, such as a takeaway cup of tea or coffee from a specialist retailer, typically purchased for about £3.00 to £4.00, which is often the same typical daily cost of running a hot tub. As the cost of electricity has gone up, this has also impacted the price of energy used for most hot tubs. In the experience of BISHTA members, the typical running costs based on a well-insulated acrylic hot tub can range between £1.50 to £2.50 per day (for average use of a half-hour per day) for a quality hot tub from a reputable manufacturer and in the region of at least £3.00 to £5.00 for an exercise spa (for the same half-hour period per day). The daily costs will be higher if there is greater usage than illustrated.
Owners have a choice about whether to keep using their hot tub in the winter or to take it out of use (this is often referred to as 'winterisation'). The manufacturer's instructions should be followed; ideally, if you bought the hot tub from a specialist retailer, they can undertake the de-commissioning (and re-commissioning in the Spring).
If any owner is thinking of de-commissioning their hot tub, it is essential to ensure that it is not left unused for extended periods, with the water not suitably treated and filtered. Hygienic water prevents any possible water-borne or air-borne infections from causing harm.
In general terms, before purchasing a hot tub to ensure that your new home feature is within your household budget, compare the cost of your annual family holiday to determine what budget you would spend. Then research what this amount of money would buy you in terms of a hot tub or spa, as owning one can provide year-round fun and wellbeing benefits.
Finding the right dealer cannot be overstated, as a hot tub is a high-ticket, luxury, discretionary item. Therefore, BISHTA recommends buying from a retailer that can help you through the buying process and offer water hygiene management advice and comprehensive on-site warranty coverage. Once you have decided what kind of hot tub you would like and its best location for you, take some time to choose an experienced dealer. BISHTA sets the hot tub industry standards, and reputable companies join BISHTA, agreeing to follow the BISHTA Standards and trade responsibly, abiding by the BISHTA Code of Ethics. Members of BISHTA can also provide detailed information on their products, with backup from their respective manufacturers.