Disruptions to the global energy market are putting people worldwide under enormous pressure. Rising energy prices are accelerating the cost-of-living crisis and sustaining the vicious cycle of constrained household budgets.
Against the backdrop of energy crisis, PHNIX is dedicated to making contribution in this struggle and constantly seeking green solutions to renewable and sustainable development.
PHNIX PV-READY technology of swimming pool heat pump: another progress to speed up decarbonization goals
Connecting to the Energy Management System, PHNIX swimming pool heat pumps can detect and utilize the electricity produced by the photovoltaic (PV), allowing the units to run safely and stably under the optimum conditions for electricity without concerning users.
"We've been striving to support the global carbon neutrality and that's why we recently launched the PV-READY technology", said Howard Zhang, the director of PHNIX Swimming Pool Heat Pump Division.
What makes the Energy Management System stand out?
Tariff Control
It can operate pool heat pumps during off-peak electricity price periods. For one thing, it can avoid the unstable operation of the units due to the current and voltage being affected by the peak power consumption. For another, it can save on users' electricity bills.
Power Limitation
It is able to reduce operations and management costs for utilities, thus lowering power costs for consumers.
System Integration
It is conducive to increase integration of large-scale renewable energy systems like photovoltaic.
How does the swimming pool heat pump work in terms of PV?
In the state of PV-READY, the units tend to run in the following four modes:
Sleep Mode
When the pool heat pump detects non-photovoltaic power output or periods of peak power, then the machine remains off.
ECO Mode
PHNIX pool heat pumps are capable of operating at mid-range capacity. When the water temperature of the pools reaches the set target temperature, the units will switch back to the Sleep Mode.
Power-save Mode
PHNIX heat pumps can run at a high capacity with enough power from the PV or batteries, allowing energy to be stored in the pool as heat.
Temp+ mode
Heat pumps can operate at highest capacity when PV production is at its peak or electricity prices are cheapest.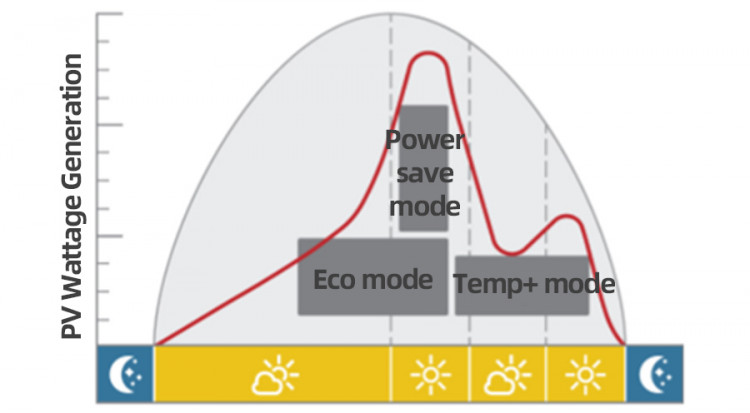 Wattage generation according to PV Ready operating modes
Generally speaking, the PV-READY not only saves energy and bills, but also improves the performance of pool heat pumps.
By developing and introducing the Energy Management System and PV-ready for PHNIX's swimming heat pumps, it undoubtedly contributes to global carbon neutrality and environmental protection.