Like every year, T&A organised its Dealer Days in Geel, Belgium, bringing together its commercial partners over a 4-day period (from 28/11 to 1/12: a day for each of 4 languages - French, English, German and Flemish). EuroSpaPoolNews was present and took the opportunity to ask a few questions to Joeri Dils, CEO, Guillaume de Troostembergh, Coordinator, Steven Vanderstraeten, Commercial Director, and a few of the group's dealers.

Meeting with T&A management
In 2022, the T&A group acquired 3 major companies on the pool cover market - Aquacover, Covrex and Walter Pool, as well as Morgana Floor, the manufacturer of mobile pool bottoms, thus covering the entire range of pool covers.
Joeri Dils, what consequences have these acquisitions had on T&A Group's strategy and organisation?

Our long-term strategy is to focus on bespoke production, as well as on products that generate recurring revenue. Indeed, although the demand for pools is slacking, renovation has never ceased to grow.
We are also focusing on energy savings in our developments, taking into account the current energy crisis and the new Pool standard on environmental impact.
These acquisitions enable us to offer a very wide range of pool covers, an item of equipment whose role and importance are even more obvious today. Another positive consequence of these acquisitions is that we now work with a very extended technical-sales team, consisting of well-trained and motivated people that operate according to the same corporate values.
One of the other synergies created by grouping these companies is the pooling of production tools, for example the Covrex stainless steel plant in Aarschot. All T&A underwater covers (Covrex, AquaCover and T&A) are made of 316 stainless steel and this directly-owned plant gives us greater flexibility for production within our lead times. Another important point is that all these companies are manufacturers and have well-trained after-sales service technicians. This pooling of after-sales service expertise has strengthened our organisation, especially in our new activity of mobile pool bottoms. We do not install covers, while for pool bottoms, which are highly technical, we will also offer on-site installation as well as an after-sales maintenance contract.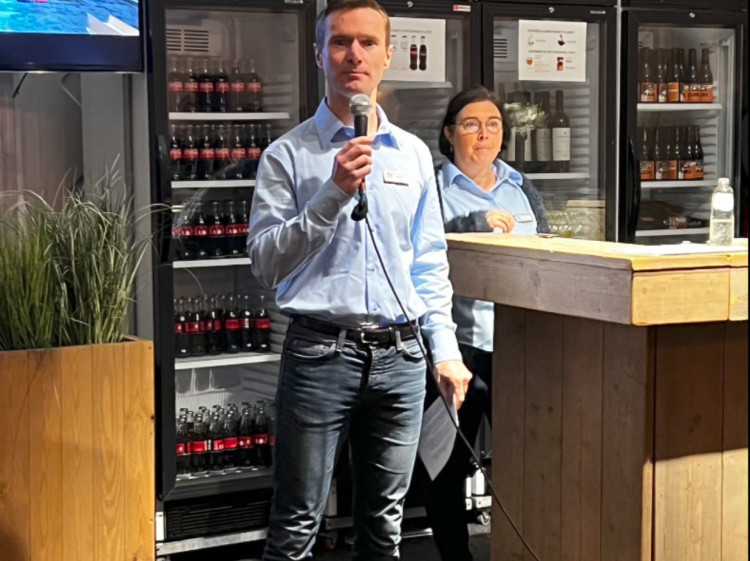 Joeri Dils, CEO of T&A, at the T&A Dealer Days
Guillaume de Troostembergh, following T&A's recent acquisitions, the group now offers a greatly enhanced range of pool covers. Do you plan to segment this offer?

In the future, T&A group will have 2 pillars.
The first will be a Premium segment for the T&A brand, which will offer pool installers high-quality technical solutions with very enhanced service, specialising in high-end projects. This is what we could call a 'Premium' pillar.
The second, the 'Comfort' segment, will englobe an offer with a better quality/price ratio, under the Walter Pool brand. Bearing in mind that our company values remain reliability, quality, service, and, above all, to continue to be a reliable partner for all professionals of the pool sector.
Walter Pool and T&A will continue to coexist, while Covrex will be absorbed by T&A. The Covrex name will now designate one of T&A's pool shutter slats.
The existence of these 2 pillars in our product portfolio will enable us to supply pool installers with a global offer that includes all types of pool covers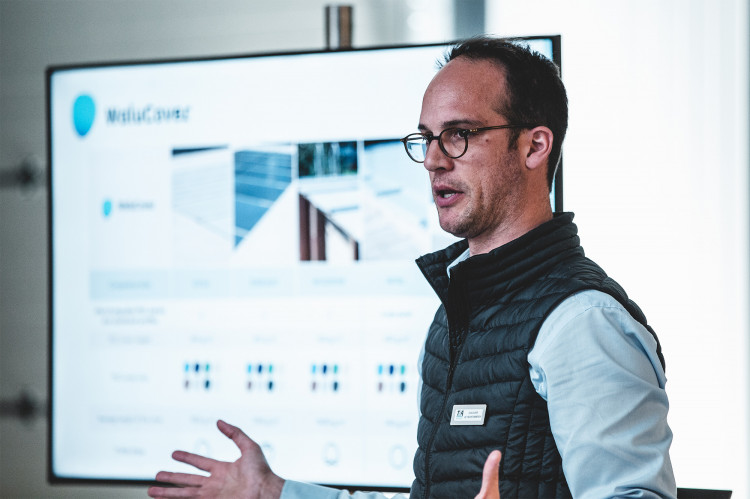 Guillaume de Troostembergh T&A Coordinator, at Dealer Days
What will be your marketing strategy with respect to professionals of the pool sector?

Our marketing strategy for pool installers will be based on proximity, either through digital communication, fairs or via specialised magazines, systematically presenting to professionals the two brands, Walter Pool and T&A. A sales network will ensure communication concerning the two brands in the field.
Steven Vanderstraeten, T&A has recently changed a great deal. Can you tell us more?

During the last two years, T&A has enjoyed strong growth and the company has taken over several businesses, including Walter and Covrex. This has led us to change the name of T&A to become T&A Group. Many new products and employees have thus joined the group. In fact, many things have changed. The former T&A was a very different thing compared with the new T&A. Due to Covid restrictions, it was not previously possible to bring together all our dealers and customers. We wanted to change that by organising a gathering at T&A's head office.
Can you describe the event?

We chose to develop a real 5-day event to inform our customers about the many changes. In all, over 350 guests came to our Dealer Days. Every day, 6 or 7 workshops were organised to enable customers to discover our new product ranges, their features and their applications. The employees of associated companies were also able to discover T&A products.
Has T&A's commercial approach changed?

On the commercial level, T&A will continue to use the same approach. The products proposed all have a technical approach, like our Walter mobile decks.
Ours sales staff all have a technical-sales profile to properly advise customers.
The big challenge will be to guide end customers through our very extensive product range to reach the best solution. As a sole supplier, we want to be able to provide our end customers with turnkey solutions.
How does T&A see the future?

We expect an economic slump during the coming year. But we can face it in several ways. First, we want to strongly focus on cross selling. We don't believe that this is an absolute 'win-win' situation. In addition, we are studying new markets, like Italy and Eastern Europe. We have much more to offer thanks to our combined strength. In this way, we can be a more important partner. Thirdly, we will use the in-house marketing expertise that we have maintained to attract both existing and new customers.

Geel plant visit with Steven Vanderstraeten, Commercial Director, during the T&A Dealer Days
T&A dealers explain their choice of partnership
You are T&A partners. What are the advantages of this collaboration?

Netpool Piscines Spas : We can rely on a solid and stable company. The group has already shown on several occasions that it is a partner we can rely on with a suitable commercial approach. We chose T&A as a partner for the quality of its products, the quality of its services and the accessibility of its sales department.
Dealer TG Concept SPRL : We appreciate the fact that Covrex has joined the T&A group for the diversity of the equipment that they will offer us, as well as the optimisation of the after-sales service. The range of pool cover equipment will be enhanced, both for slats as well as for the types of structures for high-end projects for private customers, especially for pool renovations.
Vert et Bois : I chose Aquacover to benefit from quality service provided by a small manufacturer that was always available to respond to projects with the highest standards and acceptable lead times. We hope that this will continue to be the case now that Aquacover is part of T&A.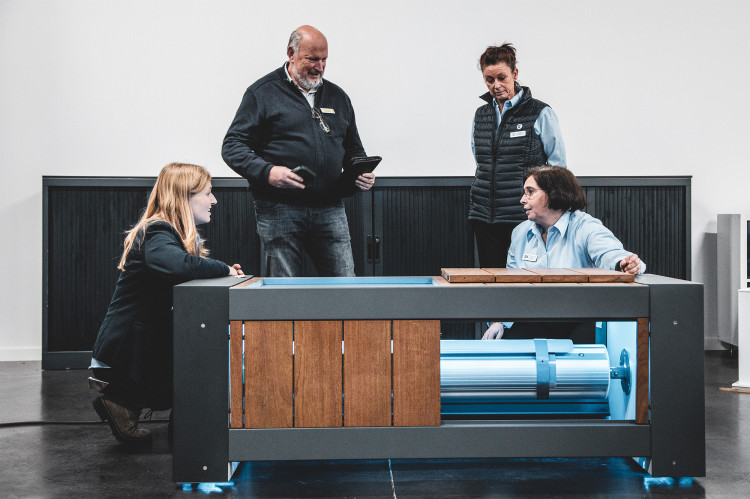 Demonstration at the Dealer Days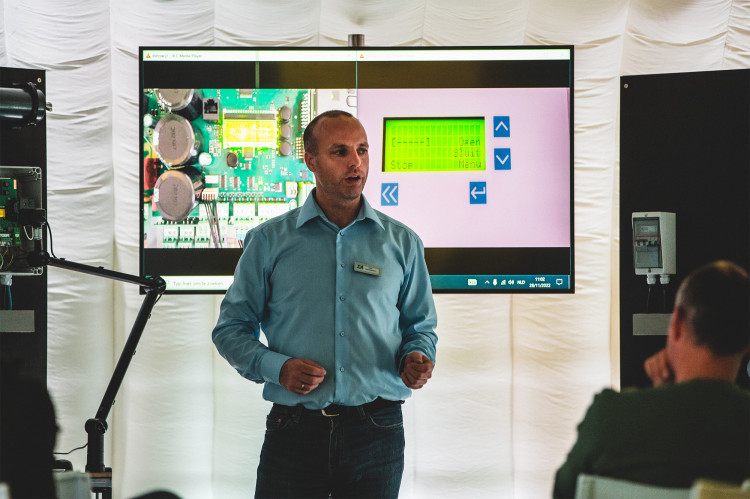 Chris Vansteenbeec T&A Technical-commercial department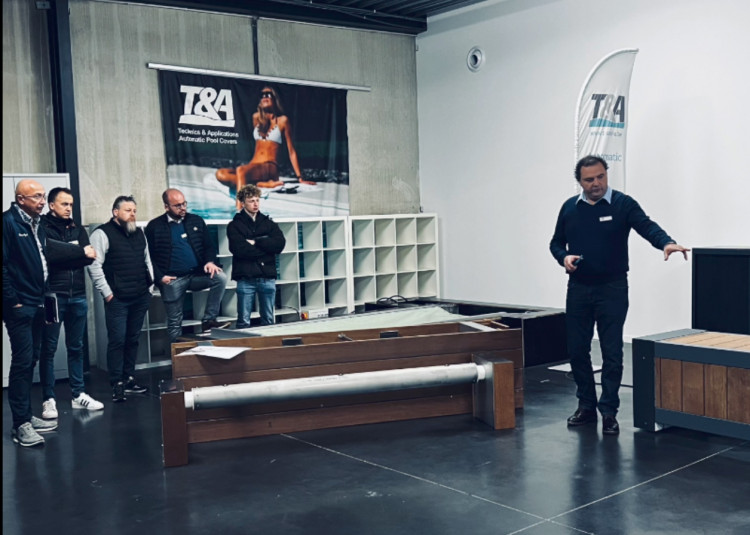 Fabien Ulpat, Commercial Director France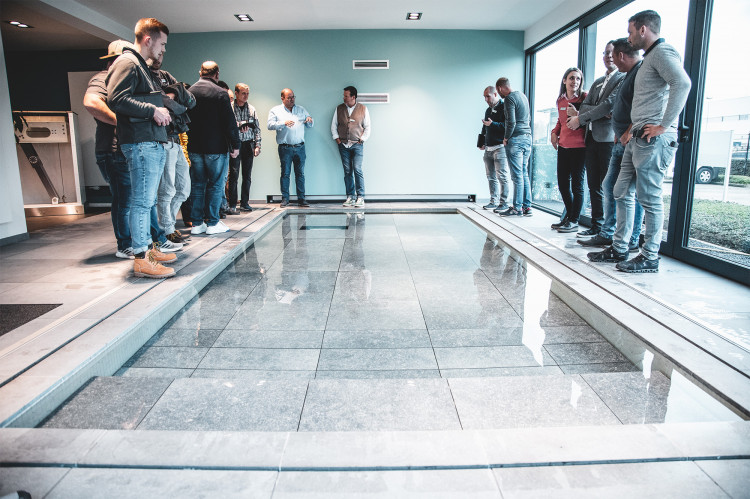 Demonstration of a T&A mobile pool bottom during the Dealer Days
Meet the company TECHNICS AND APPLICATIONS / T&A at the exhibition AQUANALE from 24/10/2023 to 27/10/2023
STAND N°Hall 7.1 C021 B020