The newly built £20 million White Oak Leisure Centre in Swanley is one of many facilities that has benefitted from innovative direct LED lighting from EVA Optic.
The fast track to better pool lighting
Supplied in the UK by wet leisure distributor Golden Coast, a number of LED lights were fitted, including 34 60w 117cm EVAline linear lights around the perimeter of the 25-metre, 6-lane swimming pool. Around the adjacent learner pool, 10 60W 233cm EVAline linear lights were fitted, along with 5 EVA Optic downlights.
Unlike indirect lighting, EVA Optic direct LED lighting is positioned overhead shining down over the water, producing minimal glare and surface reflection. This allows greater visibility into the water for swimmers and lifeguards, and ensures a safer pool environment.
EVA Optic LED lighting is extremely powerful, with the main pool at White Oak achieving an average lux of 313 and uniformity of 0.84. The learner pool had an average lux of 420 with a uniformity of 0.6.
Contractor TClarke was responsible for the mechanical and electrical installation at White Oak. "I hadn't used EVA lighting before, but it had an excellent reputation and had been recommended for this project," says Rob Woodward, Project Engineer at TClarke. "The most impressive thing for our team was how easy the EVA LED lighting is to install. It's all very user friendly. It was far quicker and easier than installing larger indirect lights."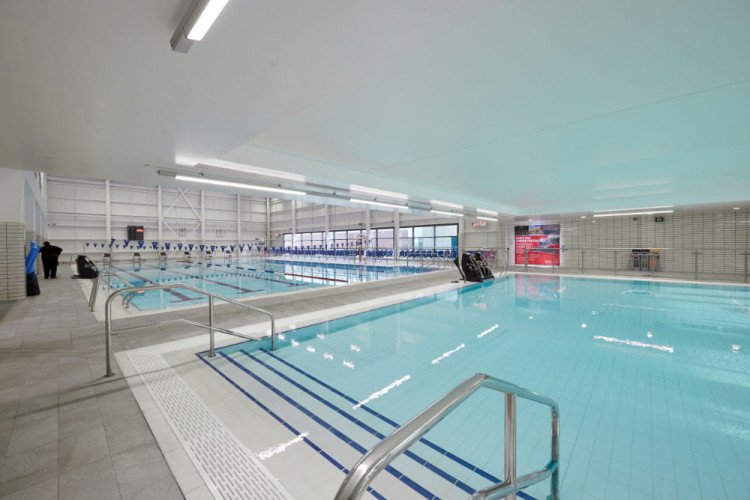 EVA Optic direct lighting at White Oak Leisure Centre
Shaun Adams of Golden Coast explains: "EVAline is a modular LED line system, made from clear anodized aluminium. A base module is connected to the ceiling, and a light module is connected to the base at any spot where light is needed. Because of this flexibility, EVAline is suitable for most locations and can be easily configured to the site's requirements.
EVA Optic LED lighting is long lasting too, as it is designed to cope with the heat and chloramines within a pool environment. So not only is it easy to install, it's also low maintenance with a lifespan of over 50,000 hours. For the leisure centre, this means lower running and repair costs.
Importantly, EVA Optic lighting offers constant light output and flicker-free illumination, so it is easier to see into the water. By comparison, indirect lighting, which is traditionally used in pool halls, can be overpowering with large spots on the water. It's small wonder that an increasing number of leisure centres around the UK are making the switch to more efficient, effective direct LED lighting."
Rob Woodward adds: "The EVA Optic lights are very good, and the support we received from Golden Coast was 10 out of 10. I have already recommended them to my colleagues around the country."
EVA Optic direct lighting installed at White Oak Leisure Centre