BIO-UV Group (Euronext Growth® - FR001334549 - ALTUV), a specialist in water treatment and disinfection systems by UV, salt electrolysis, ozone and AOP, announces the signing of a commercial partnership with Transcom Poland, a manufacturer and system integrator of swimming pools, water parks and aquariums. This 2-year commitment (until 2025) will allow the polish company to address the market with BIO-UV Group's UV-C reactors (MPTS for commercial pools and TTPE for aquarium). Two large-scale projects integrating BIO-UV Group water treatment systems have already been completed.

Swidnica's sports and recreational center equipped with BIO-UV Group
For the renovation of the aquatic park in 2022, Transcom installed BIO-UV Group's reactors MPTS range, ideal for ensuring optimal disinfection and dechloramination of the water. UV-C offers additional pool water sanitation by destroying chlorine-resistant micro-organisms while reducing chemical consumption and limiting the risk of irritation for swimmers.
The 2,500m2 park includes: two leisure pools with attractions (slides, a wild river, massage jets, a wave generator), a sports pool with seven 25 meters long lanes, and a water games area. Since its renovation, the pool has already welcomed 36,000 bathers to the facility.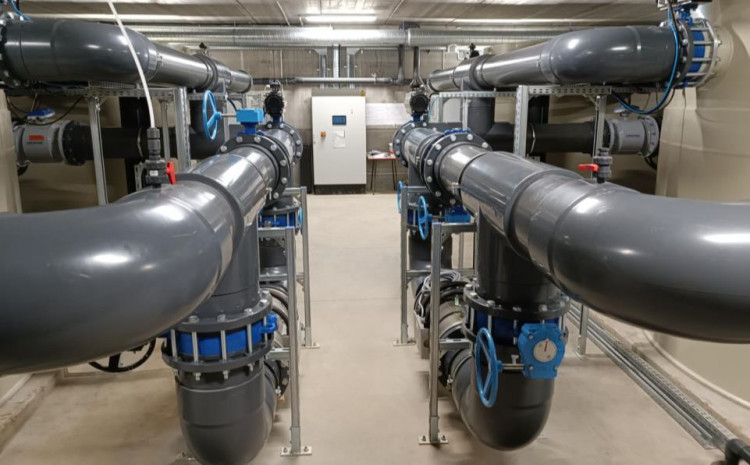 BIO-UV Group's UV-C reactors (MPTS for commercial pools and TTPE for aquarium)
UV for the preservation of biodiversity and the respect of the environment
Another large-scale project conducted in Poland by Transcom is the new aquarium of the Institute of Marine Fisheries and National Research Institute "Morski Instytut Rybolówstwa" in Gdynia equipped with TTPE reactors from BIO-UV Group. Committed to the protection and preservation of aquatic fauna and flora, the MIR has signed a contract for 13 new basins. The smallest tank will be just over 2,000 liters and the largest just under 127,000 liters. In total, the Gdynia Aquarium will have 450,000 liters of water. The extension aims to accommodate the fauna of the Atlantic, including cartilaginous fish: sharks, rays, etc.
Designed to disinfect the water and maintain the biological balance and biodiversity of these basins, the high-density Polyethylene reactors, thanks to their anti-corrosion nature, are perfectly suited for the salt water used to accommodate these species.