Professionals of the pool and spa industry, are you ready to explore new horizons and enhance your visibility to landscapers and landscape architects in France? In that case, our Special PRO LANDSCAPERS issue has been designed with you in mind!

The Special PRO LANDSCAPERS magazine: an opportunity for pool and spa professionals to communicate to landscapers and landscape architects in France
With a growing demand for customised and sustainable pools that integrate into attractive outdoor areas, the pool and spa market is in full expansion within the landscaping sector.
Specially dedicated to professionals of the landscaping and landscape architecture sector in France, the Special PRO LANDSCAPERS 2023 magazine is a privileged platform to promote your products and services to a targeted audience.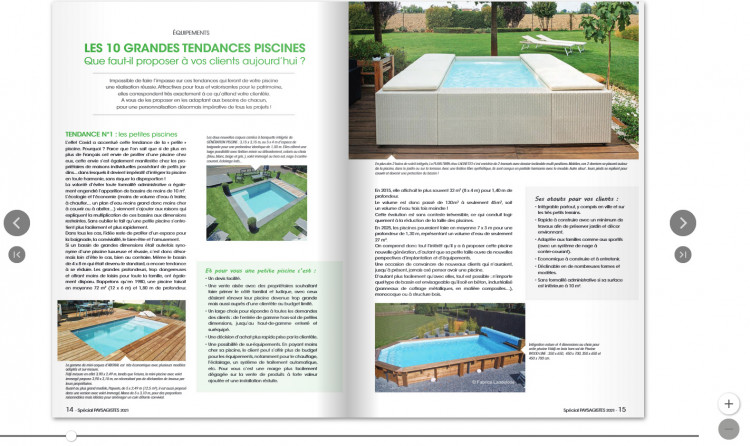 Spécial PROS PAYSAGISTES 2021
What are the advantages of appearing in our Special PRO LANDSCAPERS 2023 issue for the professionals of the pool and spa sector?
Special PRO LANDSCAPERS 2023 will enable you to:
present your range of products, innovations, designs and sustainable solutions to professionals of the outdoor and landscaping sector
invite them to discover your distribution networks
recruit new distributors
By appearing in Special PRO LANDSCAPERS 2023, you also benefit from enhanced visibility thanks to our targeted print AND digital communication via:
a paper magazine distributed to exhibitors and visitors to Paysalia, the trade fair of the landscaping sector (from 5 to 7 December 2023 at Lyon Eurexpo), and sent to nearly 5000 professionals of the French landscaping and landscape architecture sector
the publication of your information on our website and its distribution via our newsletters
online access to the digital version of the magazine on our website.
Contact us now to appear in this issue and benefit from this unique opportunity to make yourself known to landscapers, outdoor designers and landscape architects. Our team will be happy to answer all your questions and accompany you with your communication.

Meet the company EUROSPAPOOLNEWS.COM at the exhibition AQUANALE from 24/10/2023 to 27/10/2023
STAND N°A027 - Hall 7.1