Overview of the situation of the connected swimming pool phenomenon
After a few years of setting up on the swimming pool and wellness market, the connected swimming pool is seeking a second wind. It is now a matter of turning this cycle of innovation into economic reality. It should start for the swimming pool specialist who, alone, faces the actual state of affairs and pressures that are sometimes hardly felt by manufacturers. We will provide a brief overview of the situation of the connected swimming pool phenomenon.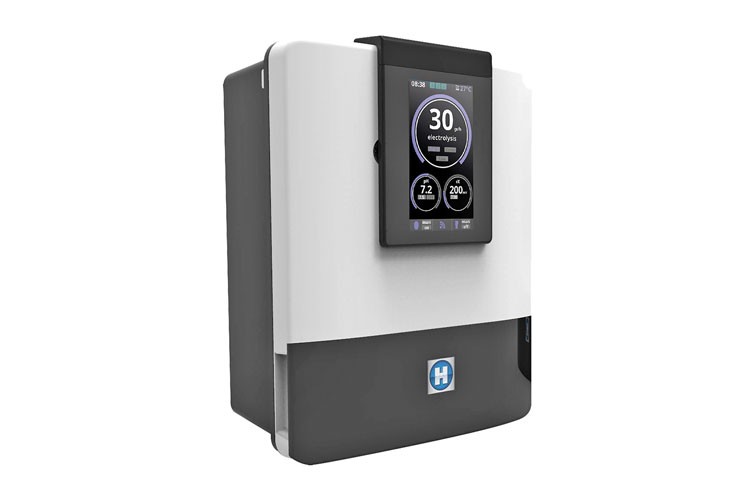 AquaRite®+ is a single box with a Wi-Fi module which lets you control all of the swimming pool and includes a salt water electrolysis system with a pH regulation pump. In addition to treating and regulating the water parameters, this device lets you control HAYWARD swimming pool equipment, such as the filter pump, heat pump, lighting, etc.
Consumers' Complicated Demand
The arrival of connected solutions was like a breaking wave. Suddenly, everything in the swimming pool sector became "connected". So much so that end consumers were being offered connected equipment which they didn't even know existed or they needed. This is also the case for many other products: supply sometimes creates demand.
This is the first current aspect facing certain swimming pool specialists. Connectivity is not something needed by many swimming pool owners. Consequently, it is difficult to sell them an unwanted benefit.
But at the same time, the automated and connected swimming pool managed remotely is becoming increasingly popular among a brand new target group of consumers. Well-informed and demanding connected products, these consumers have another criteria for what they expect from their swimming pool specialist: a knowledge of new technologies.
Swimming pool specialists therefore find themselves facing two sorts of contradictory attitudes: pool owners who used to overlook new technologies and were often reluctant when faced with something that seemed strange and complicated, and another target group of informed consumers who are already using them with interest in their daily life and at home and love automation for their pool.
So if swimming pool professionals, manufacturers and installers don't include automation in what they offer, this market could slip them by and fall into the hands of home automation installers.
Manufacturers are currently vying to have the best ideas, content and demonstrations of all kinds to highlight the benefits of the connected swimming pool: easier, more comfortable, safer and more environmentally-friendly.
Beyond marketing this offer, while swimming pools are perfectly suited to greater connectivity, let's call it, automation, this is because the product is intrinsically perfect for it.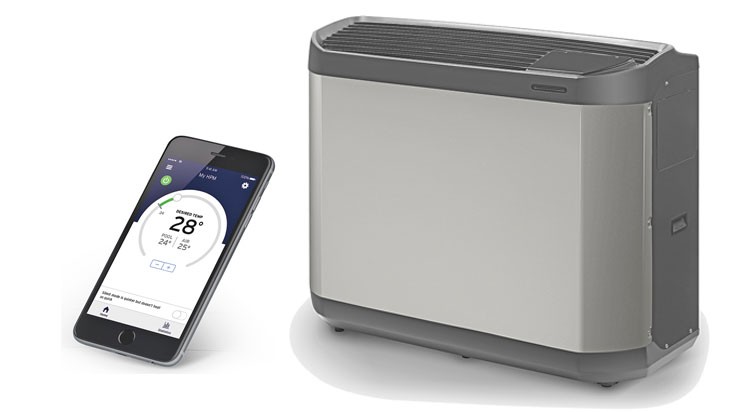 The new range of Z400 iQ reversible heat pumps, available in beige grey and aluminium grey, can be controlled remotely from a smartphone or tablet via iAquaLinkTM, a free app (iOS and Android), which provides access to the functions of each connected ZODIAC device.
How does automation make a smart pool?
Besides the mechanical timer, early automation in swimming pools began with automatic water treatment regulators, more specifically, stations developed with their own pH and Redox analysis chamber, and fitted with peristaltic pumps so relevant products could be added. Next, it was the turn of this electronic module to connect to the pool's electrical box to automate the filtration time depending on the water temperature. The foundations were laid and all of a sudden the chains were off pool owners, so it was a great success.
Today, more and more swimming pool equipment is designed to communicate and interact with each other, instead of humans, the goal being to relieve pool users from endless weekly visits to the machine room by offering them the ability to control and change the settings remotely -- or to let their swimming pool specialist do this -- or even that these controls and settings are automated. If needs be, automation can be done through comprehensive analysis of all the swimming pool's specific parameters, i.e. by adapting the filtration cycle to water heating and treatment, while taking into account the weather, etc.
Swimming pool automation therefore collects a certain amount of data which it analyses as a whole to interact in a relevant way, thanks to the artificial intelligence involved, with each piece of equipment concerned in the pool.
Furthermore, automation can meet the current demand for an environmentally-friendly swimming pool. Consumers are increasingly concerned about saving consumables, water and electricity, while checking that everything is working well from their tablet or smartphone, including the option of remotely taking control of the machine, if necessary.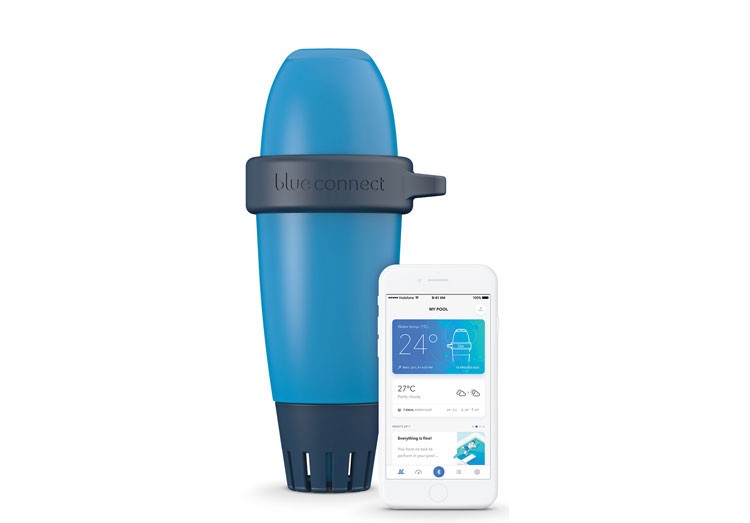 The Blue Connect connected water analyser measures the main parameters of the water in a swimming pool or hot tub and sends them in real time to a smartphone or tablet via the special app and the Sigfox radio-frequency network. It can be used as a floating device directly in the pool or installed in the machine room with the Blue Fit 50 accessory. ASTRALPOOL
Are these connected products now reliable?
While products have only really been coming onto the scene for about 3 years, it was 10 years ago that major swimming pool players focused on connected objects and automated systems for swimming pools, continuing to develop them and make them more advanced. A decade has gone by and it is no longer a matter of experimentation or test runs. These new high-tech products have been perfectly mastered. Nevertheless, there is one prerequisite: analysis probes must be used fittingly, i.e. properly wintered, and calibrated and configured every year, while also being regularly replaced.
Nowadays, connected and automated products are reliable and made with electronic components now covered with resin for durable protection against humidity and corrosion provided, however, that machine rooms are properly ventilated to limit the issue of humidity and even corrosion if chlorinated products are being stored.
Another important point for swimming pool specialists is that an after-sales service is also increasingly included by manufacturers.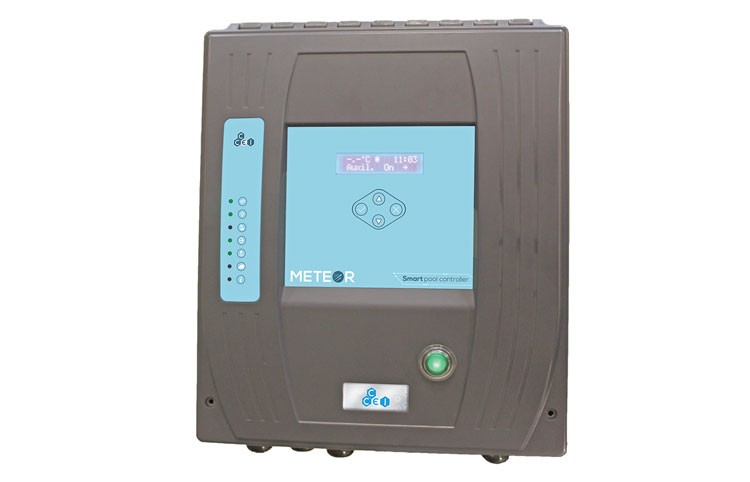 The Meteor multifunction electrical box from CCEI allows the complete and automatic management of the pool. The Meteor XC version includes in addition to the functionalities of the standard box, the salt electrolysis. This box This box allows to manage an optimised filtration according to the temperature of the water, the controllable pool ligthing (12V power supply for projectors), a programmable auxiliary output for a booster...

Solutions to help pool professionals
A specialist technician to help you during your first installation
To debunk the mystery of automation among swimming pool specialists who misunderstand the product, most manufacturers provide training sessions on this subject, when a specialist explains and provides information on automation, while also showing how you use probes and analysis chambers and how you connect electrical boxes. Contact your suppliers for more information.
Furthermore, when you first order an automated product, manufacturers generally send a technician to provide on-site support to the swimming pool specialist's customer in order to help the installer with the first set-up and configuring the device.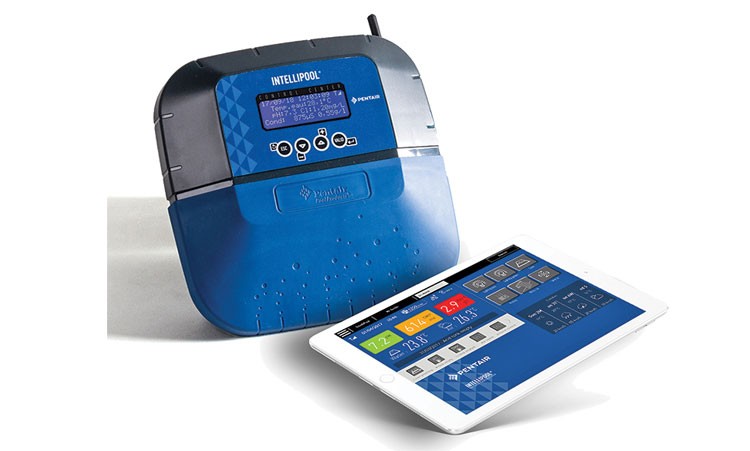 IntelliPool® is a remote management and monitoring system that lets you control the filtering, heating, lighting and all water treatment equipment. It can be wirelessly connected to the Internet router to access all the information from a smartphone, tablet or computer. PENTAIR

Offers for small budgets and teaching the "sceptics"
Even though retail prices of automated swimming pool products have dropped over the past ten years, the time when they first went on the market, the investment cost, or the concept of subscription, may still put some people off buying. Manufacturers know this, so some of them have developed makeshift solutions which do not offer the complete package, but rather the basics so sceptics can discover automation, try it and then take it on-board! For your most reluctant customers, entice them with connected objects: automatic regulators, swimming pool heaters, a connected floating cover or even these brand new connected floating analysers. These devices provide information on the air and outdoor temperatures, as well as the chlorine, pH and alkalinity levels, etc. So they're the perfect way to dip your toe into automation at a low price.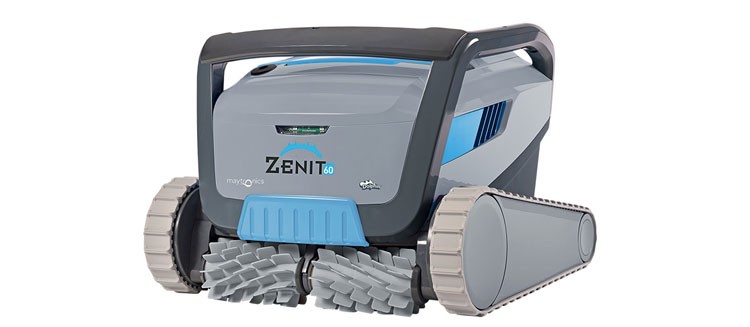 Zenit robotic pool cleaners, distributed by SCP UK, deliver automated, high-performance pool cleaning. As Zenit 60 is cloud-connected, the user can control its Dolphin robotic pool cleaner via the MyDolphinTM app where he can choose modes, get notifications, set a timer, select a cycle to get a perfect pool from anywhere at any time.
Zoom on the connected robot, hot tub or sauna...
In the connected swimming pool market, certain products are becoming more and more successful and manufacturers are expanding their offers. So, if automatic cleaning with a booster connected to the automated system would not win over your customer, try offering a connected robot.
Controlling the robot remotely with a smartphone or tablet thanks to a dedicated application appeals to many consumers.
Manufacturers have also brought automation into the wellness sector. With the smart integrated into the spas and a control app for iOS or Android systems, a hot tub can be connected to the home Wi-Fi network and its maintenance can be run remotely.
It is now possible to control and program the basic functions of hot tubs, from starting up the massage pumps to configuring the filtration cycles.
Sauna or hammam cabins can also be connected to a home network or the Internet to remotely control all its functions from a smartphone, tablet or computer.
Let's now make a fairly safe bet that we won't take back. The automated system is installed in the pool. The real benefits for the swimming pool specialist and the end user are proven. The industrial device has now identified the faults of the first products and fixed them. The lawmaker has moved swiftly to protect the consumer. But there is still one unknown: the ability of swimming pool professionals to support the change. The economy hates empty space. If swimming pool specialists do not grasp this market, others will learn how to install pools to sell connected packs and their lucrative subscriptions. Who could have one day imagined that engineers specialised in algorithms would walk down the red carpet in Cannes and sell TV subscriptions? And then Netflix arrived...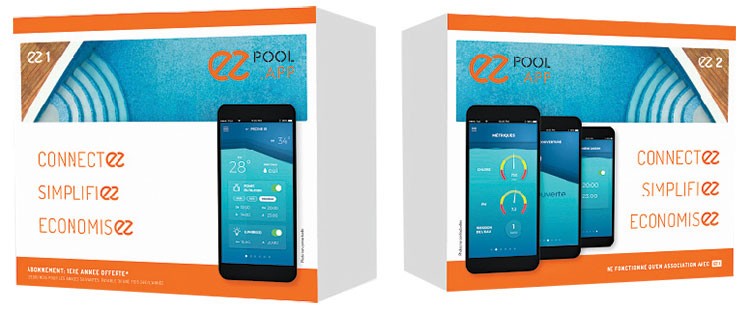 EZPool.app, downloadable from the App Store and Google Play, allows you to connect to the technical room of your pool. It adapts to all technical premises and devices, whatever their brands. The EZ1 box connects to the Wi-Fi and allows you to manage one or several pool areas, as well as the filtration pump and lighting, to monitor the air and water temperature and to check the water flow. By adding the EZ2 box, the user or the pool manager, can control the chlorine and pH levels, the water pressure, the position of the shutter, any water treatment devices, as well as three additional pieces of equipment such as a heat pump, a fountain, a robot, garden lighting or a counter-current jet ...