What are automation and home automation applied to the swimming pool?
From cleaning to disinfecting and including filtration or water temperature, even complete pool maintenance, many tasks can be automated and/or controlled remotely. Technological advances in the field of automation and home automation have made using and running a swimming pool easier and more convenient. However, the growing number of different types of solutions and products has sometimes confused users and swimming pool specialists.
Understanding what automation or home automation involves means you can work out what your customers need, so you can advise them and recommend the right system or device for them.
Automation
Automation is a system that programs single or groups of tasks, which will have an effect on one or several mechanisms or pieces of equipment. It requires a certain sequencing that will be triggered during the day, week or month, and which might vary depending on what is going on around it. This system is localised on-site, generally in the machine room. Any information will not leave this area. Users therefore program the device so it can carry out its tasks, and if they want information or to change these settings, they have to physically go to the machine room to do so.
For example, for water treatment, depending on the criteria of the device, it will perform a specific action according to the water temperature, pH level or another criteria, depending on how sophisticated the system in question is.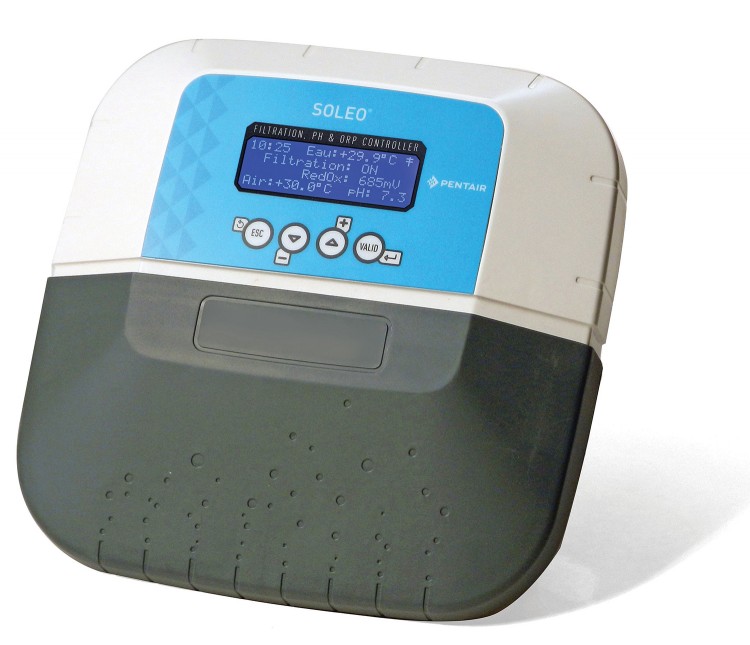 Pentair offers an upgradable range. It includes Soleo, which can automatically regulate water treatment by controlling the classic equipment in a machine room. A single-speed filter pump, disinfectant and pH pump are connected to it. It can also control a variable-speed pump and a heating system with the Soleo VS configuration or by adding a Speedeo unit.
Connectivity
Another milestone has been reached with wireless connectivity and artificial intelligence. Data transmission technologies without any hardware support have actually developed considerably (WiFi, Bluetooth, infrared or radio frequency), so you can check, access information or change the programme remotely.
Tasks do not need to be done from the machine room, but instead can be done from an app or website through a screen, smartphone, tablet or computer.
You can therefore have several devices with a specific app for each one, so you can control a filter pump, a heat pump, a pool cleaner, the water treatment system, etc., with up to 4 or 5 different apps to control your swimming pool.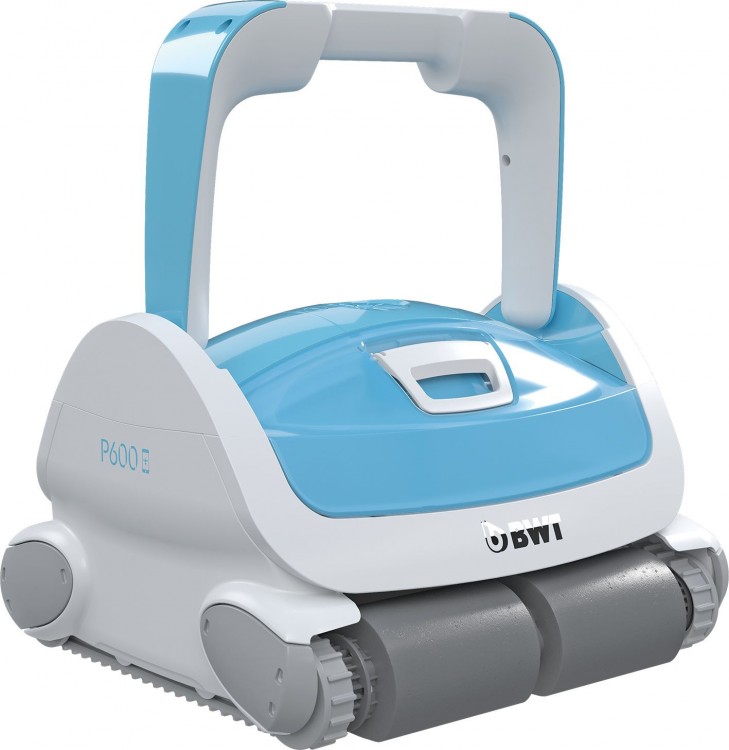 Out of all the BWT electric pool cleaners, the P line exclusively for professionals offers automatic pool cleaning thanks to its Smart Navigation system, which scans and detects obstacles and streamlines the cleaning route. The P600 APP model includes a Bluetooth module, which lets you control the pool cleaner from a smartphone with the free BWT Best Water Home app.

The i-Komfort inverter heat pump by Kripsol can be controlled remotely from a smartphone, tablet or PC with its WiFi module, available as an option.
Home automation
Home automation brings together all of the technologies in your home: it includes automation and adds a level of intelligence by offering an interface to control equipment that can be complex. It lets you gather information from different devices, link them under the same single interface and coordinate their tasks.
Swimming pool automation collects a certain amount of data which it analyses as a whole to perform the relevant task on each piece of equipment concerned in the pool thanks to the artificial intelligence involved.
Therefore, depending on the system installed, it will let you collect and access information:
which then needs human intervention,
or remote management by sending an instruction,
or autonomous management by automatic control organised by the system.
With home automation, it is now possible to automate all pool equipment and minimise the need for human intervention.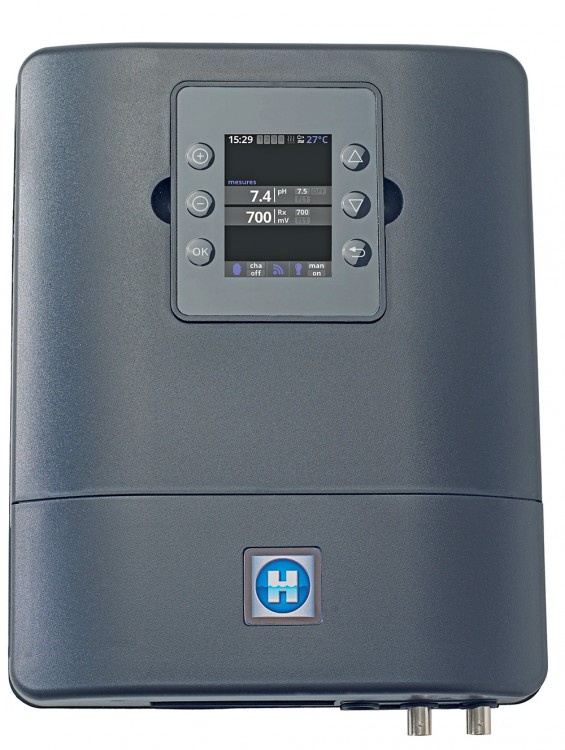 Control Station by Hayward is a centralised system in the machine room, which fully manages water treatment, although you can add other equipment. The basic kit includes a box that can be fitted with a WiFi module included or as an option, depending on the device.
A wide and advantageous offer

A variety of solutions to suit different needs
While various functions have become automated in swimming pools, 3 different types of configurations can be distinguished. Functions or equipment are automated by:
programming launched from the machine room, usually for filtration, water treatment or heating;
a control box or app for each piece of equipment separately: an automatic cover, lighting or cleaning robot;
a system linking several pieces of equipment that can be controlled from the same interface.
Furthermore, these different systems offer more or less human intervention, ranging from accessible information that requires human action, or sending an instruction to trigger this action, up to autonomous running that needs no intervention.
Several solutions are therefore available to your customers.
With the development of home automation, more and more pieces of pool equipment are designed to communicate and interact with each other, in place of humans. Pool owners therefore do not need to make regular visits to the machine room, thanks to the option of controlling and changing settings remotely, or because these settings are fully automated, so they no longer require any intervention.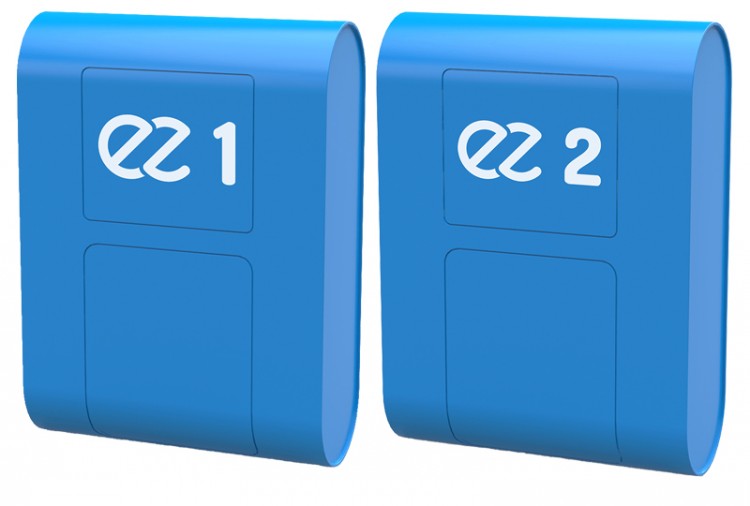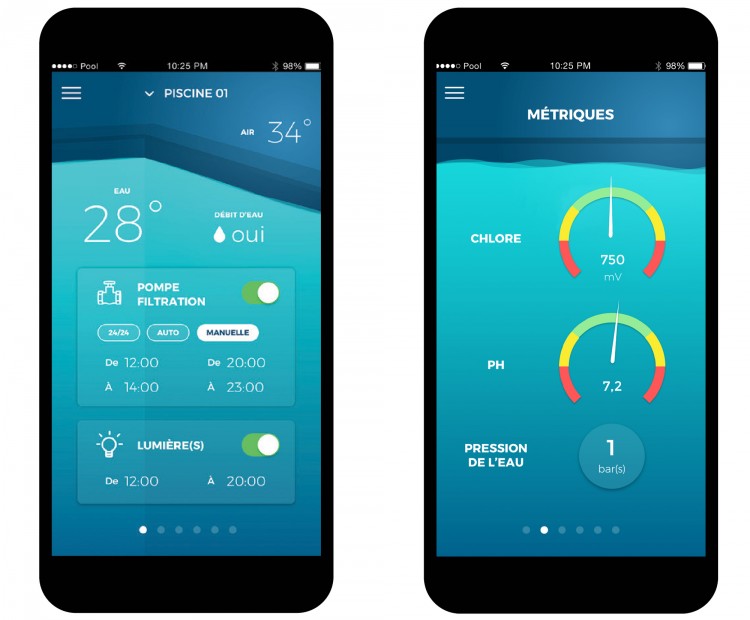 EZPool.app can be downloaded from the App Store or Google Play and lets you connect to the pool's machine room. It adapts to all machine rooms and all devices, no matter the brand. With its box, it lets you manage the filter pump and lighting. A 2nd box opens up more possibilities.
The vast majority rely on a smart base built into the water treatment system, connected to different devices, with a varying number depending on the systems offered. This type of configuration is still an interesting option for swimming pools being built or renovated, since the machine room has had no recent automatic processes. On the other hand, if the owner of an existing pool has invested in a control station that is not obsolete, it is better to switch to a home automation system with a base built into the filtration box, so this control can be linked to it as well as other pieces of equipment.
The choice of offers for your customers will therefore, of course, depend on their budget, but also on the level of autonomous running they want, the functions or devices they want to control or no longer have to monitor, etc.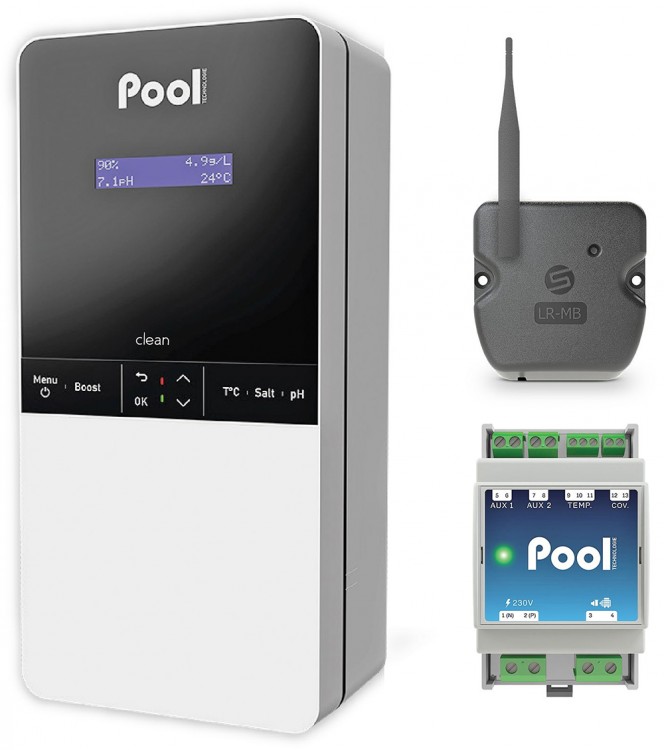 Pool Technologie offers training sessions so professionals can learn more about the different offers. This year, the company is selling its new Natural Pool Series® line. It includes the Clean CONNECT model, which lets you control the chlorinator remotely, but also the filtration and your choice of two other pieces of equipment (lighting, heat pump, pool cleaner, etc.).
A booming market for swimming pool specialists
Addressing the concerns of the pool professionals
Swimming pool specialists are still often hesitant or concerned about these new offers on the market. Sometimes this comes from the difficulty in telling them apart or understanding which system is best for the specific demand of each customer. Their experience in the field also leads them to two sorts of contradictory mindsets.
In fact, many pool owners do not say they need an automated or connected swimming pool. It is therefore hard for swimming pool specialists to sell them an unexpected benefit.
But at the same time, a whole generation of future new pool owners no longer use things like previous generations and they know that new technologies can free them from many hassles in using and looking after their pool. This new target audience of consumers increasingly wants an automated and connected pool so they can manage it remotely and expect another piece of expertise from their swimming pool specialist: knowledge of new technologies.
So if swimming pool professionals, manufacturers and installers do not include home automation in what they offer, this market could slip them by and fall into the hands of home automation installers.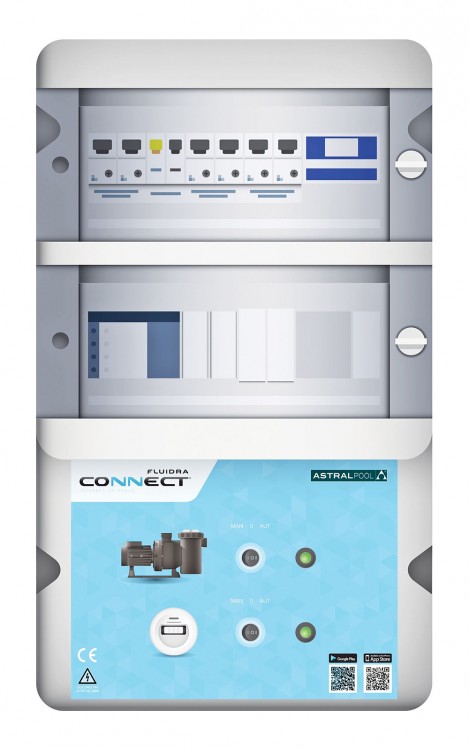 Fluidra Connect is a smart solution which lets the end user and/or pool professional control the swimming pool remotely. It has two control modes: basic intuitive control via the app for the end user and the optional advanced control via the www.fluidraconnect.com platform for swimming pool specialists.
Solutions to help swimming pool specialists with their customers
Don't worry! Manufacturers are vying to have the best ideas, content and demonstrations of all kinds to highlight the benefits of the smart swimming pool: easier, more comfortable, safer and more environmentally-friendly. The increase in marketing this offer is therefore getting ready for easier sales for swimming pool specialists.
Furthermore, manufacturers have developed makeshift solutions which only offer the basics so people can discover home automation. This simple, low-cost first way to dip your toe into home automation often helps acclimatise consumers, who will then move on to other more comprehensive offers.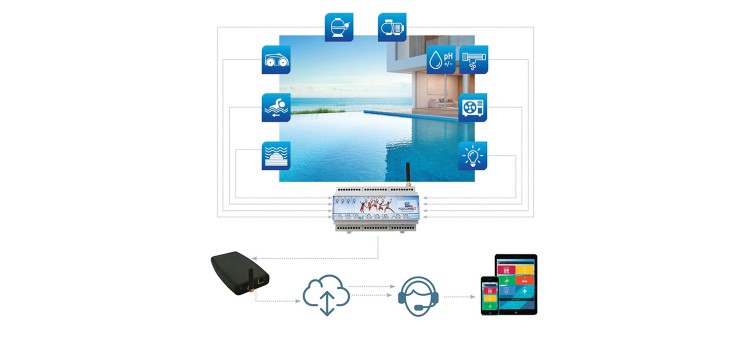 Polyconnect Pro lets you manage all of the equipment in one or several swimming pools remotely: the heat pump, rolling shutter, filtration, water treatment, cleaning, lighting, swim jet, etc. The information is relayed to the pool user, the professional in charge of its maintenance and the Polytropic Technical Service.
Another important point is that installation and an after-sales service are increasingly included by manufacturers. Many of them provide training in this field, when a specialist explains and provides information on home automation, demonstrating how probes and analysis chambers work and how electrical boxes are connected. When you first order a home automated product, some of them also send a technician to provide on-site support to the swimming pool specialist's customer in order to help the installer with the first set-up and configuring the device.
Finally, the point of automation, connectivity and home automation is also an important working tool for professionals. These new technologies help them identify anomalies and plan how to resolve them, even launching corrective actions remotely. They can therefore manage a large group of pools more easily and in a more cost-effective way.
These innovations allow them to provide a better after-sales service and keep their customers.
Automation and home automation are part of the swimming pool sector and will have an increasing impact in the future, both on the habits and demands of pool owners and on the job of swimming pool specialists. After a few years of getting used to them, it is now time to debunk the mystery around these new technologies. Take advantage of the tools and services which manufacturers and distributors are providing to help you and capitalise on this booming market which could become a real opportunity for swimming pool specialists...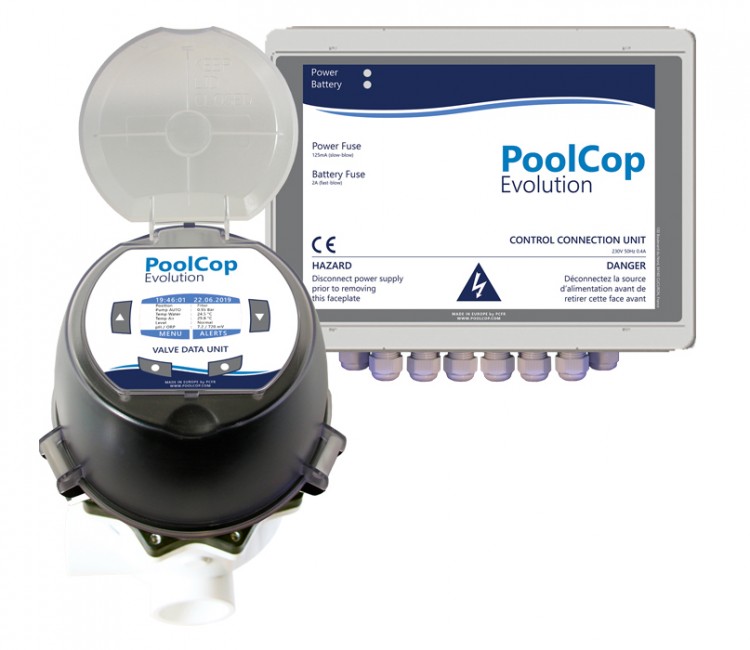 With the automated management system for PCFR PoolCop Evolution pool equipment, professionals can monitor and control their group of pools in real time, while end customers can enjoy comprehensive management of their pool.