Turbine or not turbine? That is the question... asked by customers who wish to benefit from an efficient and practical counter-current swimming system in their pool. This trend is confirmed by the fact that counter-current swimming offers users a different experience that is increasingly appreciated. Both systems - with a turbine and with a pump and jets - have their advantages, which must be understood in order to provide perfect advice.
What you need to know to sell a swim counter-current for a swimming pool

Diagram of counter-current swimming with turbine (JetSwim Athlete de Pahlén)
and classical system
Classic counter-current swimming
Classic counter-current swimming systems incorporate pumps and nozzles and today offer both outboard and built-in solutions. Their principle: water is sucked in through an inlet and released by a different nozzle. Water circulation is ensured by a powerful pump, varying between 2 and 5 HP, in order to ensure a flow up to 100 m3/h.
One or more nozzles that can be either round or oblong, to create a less turbulent and swirling current, offer flows that comply with the expectations of a demanding clientele. Indeed, these latter wish to use their counter-current systems both for relaxation and for regular fitness training, which requires an adjustable flow for greater comfort. The attractions of careful design, incorporated LED lighting, and stainless steel or ultra-flat faceplates compete to enhance the pool environment in the most elegant way possible. User-friendly keypads, pneumatic or piezo buttons and remote controls provide everything you need for an effortless swimming experience.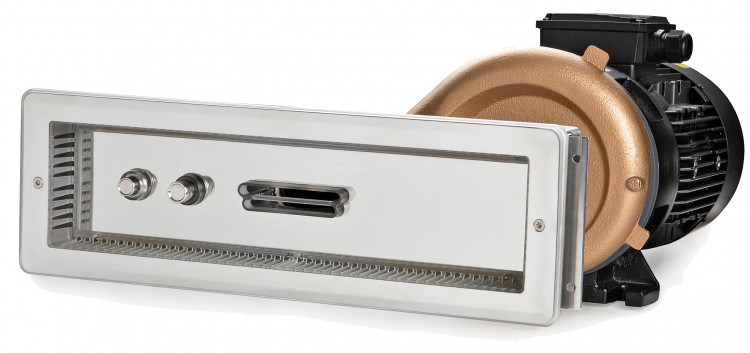 The Jet Swim by Pahlén utilises a specific technique. It is neither a turbine nor a traditional jet counter-current system, but a process with two oval nozzles, the lower being directed downwards for a more uniform distribution of the stream. Entirely made of stainless steel, it is ultra-resistant. The range includes a 2.2 kW (3 hp) 'Motion' version for a flow of 46 m3/h and a 4kW (5.5 hp) 'Athlete' version, offering a flow of 68 m3/h.
The turbine: a totally different technique
The swimming turbine operates on the same principle as a ship's propellor by creating a very wide and powerful current, offering flows of up to 1200 m3/h. That is why it is increasingly used by high-level athletes for their training. Nevertheless, thanks to its adjustability, the turbine counter-current system is also suitable for spa lovers. Settings are controlled by keys incorporated into the faceplate (sometimes tactile), by remote control, DMX control, or even via a mobile app for certain versions.
Here, too, aesthetics are primordial and every effort has been taken to offer ever more discreet and stylish faceplates.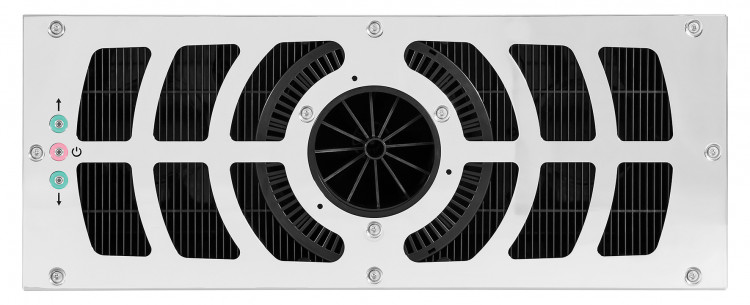 The counter swim unit BADU JET Turbo from Speck Pumpen combines the flow-optimised and efficient propeller technology with an elegant design. It provides an even, smooth flow pattern and a very natural swimming experience. 7 different power levels are proposed to the swimmer.
Among its advantages are the natural and uniform flow that is distributed evenly over the swimmer's entire body. Running more silently, the turbine also limits splashing and turbulence.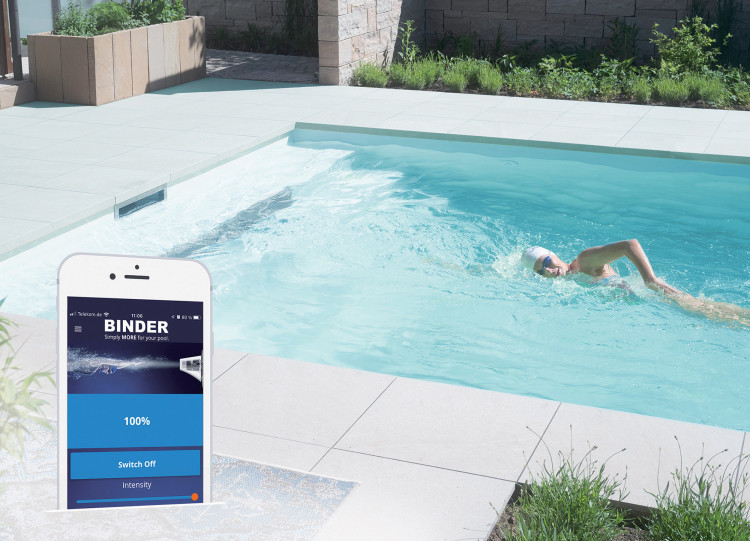 The Binder HydroStar and EasyStar systems are easy and practical to command via a piezo switch, remote control or mobile app. Users can adjust the flow as needed.
Economic to use, it offers better performance than classic systems, but inevitably at a higher price due to the technology involved. The mobile version is quick and easy to install and can be simplified for embedded versions thanks to wall mounting, whether or not they are incorporated into piping, etc.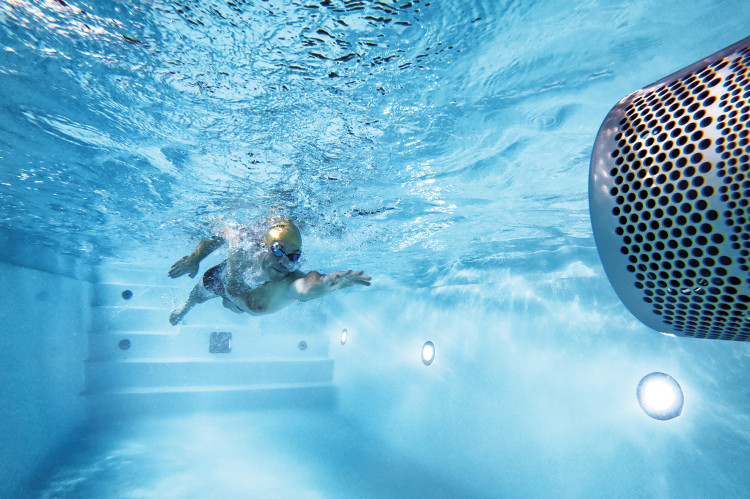 The EVAstream system by Eva Optic offers power at an affordable price. It meets EN16852-1 and EN16713-2 safety standards for private pools, as well as EN13451-1/3 for public pools.
Whether turbine or classic, counter-current swimming provides added 'comfort' value to offer your customers, giving special attention to the flow in m3/h (or litres/minute) rather than comparing power (pump or turbine).