Everything goes! After the low-consumption pool - made necessary by the economic situation - it is the spa's turn to earn its place in the sun in terms of environment and savings. It's been a gradual process that has never infringed on comfort and well-being. Proof that equipment that is luxurious by definition can also be virtuous....
At the Lyon fair, we saw a flowering of wonderful ideas to improve all aspects of spas. Although there were no major innovations, we have to admit that previously unconventional features are tending to become standard. All technical equipment is concerned, and much more besides. An overview of these changes - and therefore of selling points - that we will have to reckon with.
1st GOAL : Reduce consumption

Energy costs
What does a spa consume? It's difficult to pinpoint because it depends on the size (the largest contain nearly 2000 litres), the location (indoor or outdoor installation and geographical area) and use (year-round or for a few months, and the frequency of use: the more frequently it is used, the more often it will be necessary to renew the water, use chemical products and heat the water).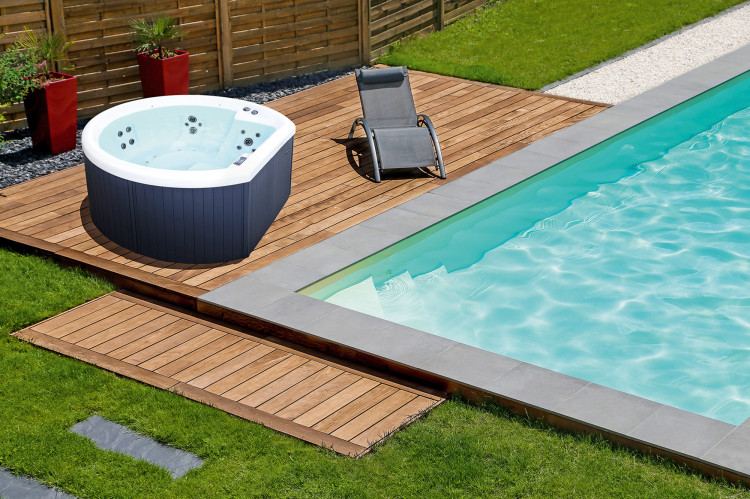 Netspa's Halfmoon at Poolstar: a compact spa that can fit through a door frame and is quickly installed thanks to its Plug & Play system and a secure circuit-breaker plug.
In short, if we refer to manufacturers or energy specialists, we obtain the following results:
a recent study (January 2023), carried out for expertise-energie.fr, determined that a 4-person spa consumes between 2500 ad 7500 kWh per year. A giant step from simple to triple! Taking into account that 1 kWh costs EUR0.20 on average since the last price increase in February, this represents between EUR500 and EUR1500, i.e. between EUR1.40 and EUR4.10 par jour.

energie-environnement.ch, a Swiss site as the name indicates, gives the same range - between 2500 and 7500 kWh per year. It should be noted that in certain Swiss cantons it is illegal to heat water with an electric heating element. Only heat pumps, solar panels or other forms of renewable energy are authorised.
We find the same estimates given by other players on the European market, even if manufacturers and retailers are far from placing the accent on consumption, which has become usual for the pool sector.
We have to admit that worrying over the cost of spa operation has never been a priority. Of course, as for saunas, we often heard of an estimate of EUR1 per day, but without any real basis for the claim.
Today, the thinking is different: even if inflation and the energy crisis may jeopardise the purchase of a spa for the middle classes whose budgets have been affected, ecology and environmental protection now concern everybody, with no need to mention any cost factor whatsoever.
Based on this observation, it has become obligatory to transform the spa into a virtuous item of equipment that is not open to criticism. The best way to achieve this is through communication, the improvement of technical features, and advice given to users on best practices.
Some players offer a tool that enables users to calculate customised costing for monthly consumption by entering several parameters.
Heating provided by heat pumps and reinforced insulation
Even if filter and massage pumps, blowers and other electrical devices (control, lighting, management, etc.) consume energy, the main electricity costs remain linked to heating.
In the beginning, electrical heating reigned supreme. And for good reason - it is efficient, quick to increase temperature, easily integrated thanks to minimum size, and comes with no surprises. Indeed, for the latter element, it is important to specify that the coefficient of performance is equal year round, even if it is far from ideal because for an input of one kilowatt hour... the heat output is only one.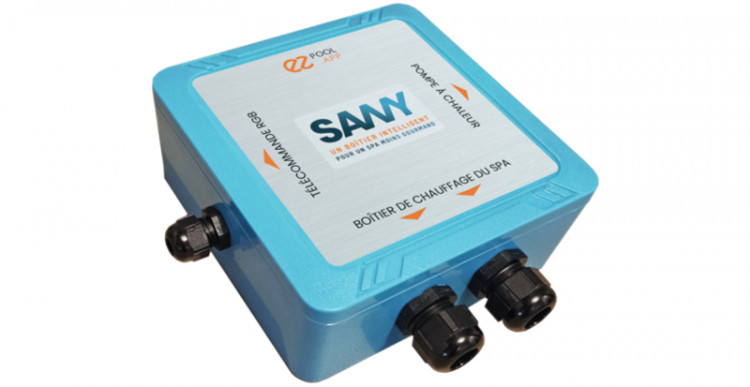 Warmpac's SAVVY Smart Box
Although pools have been equipped with heat pumps for many years, spas have trailed behind. The issues were obviously not the same. With much smaller quantities of water, the costs were not very significant. Given today's circumstances, everything has changed and consumption is examined very carefully. It is enough to mention Ecodesign regulation (EU) 2019/1781, which introduced, from 1 July 2021, strict new requirements in terms of energy efficiency for induction motors and, for the first time, for electronic motor controls such as frequency converters, eliminating certain exceptions that were permitted until then.
In short, for our sector, and more particularly for spas, it is above all the heating mode that has been targeted. The first heat pumps already appeared several years ago. Of course, the difficulty was to integrate this equipment, which is larger than a heater. Offset installation with a by-pass was common until the ingenious intervention of manufacturers who made it possible to install the heat pump in close proximity to avoid any loss, thanks to silent, discreet and space-saving design. The best example: the Stepio by Polytropic, which was unveiled during the most recent Piscine Global fair in Lyon.
The only problem for a spa heat pump: knowing where to install it and how to conceal it. This has been solved by the Stepio from Polytropic: the heat pump is in immediate proximity to avoid any loss, hidden under the steps that provide easy spa access. Moreover, it is quieter, very efficient (CoP up to 5.2) and connected.
It nevertheless remains possible to combine the two heating systems and maintain the use of an electric heater, if only to take advantage of a rapid rise in temperature when needed.
It is then necessary to preserve this precious heat. As for a building or a pool, insulation is the preferred method. Considering that the greater part of heat loss is via the surface, it is the cover that must be optimised (through criteria of thickness and the materials used).
An increasing number of manufacturers also focus on the general insulation of the tank as well as certain other techniques. Considering, for example, that the injection of air bubbles via the blower cools the water (especially in winter), a design that directs the air through certain technical elements to recover their heat (free of charge) can ensure pre-heating that generates both savings and comfort for users!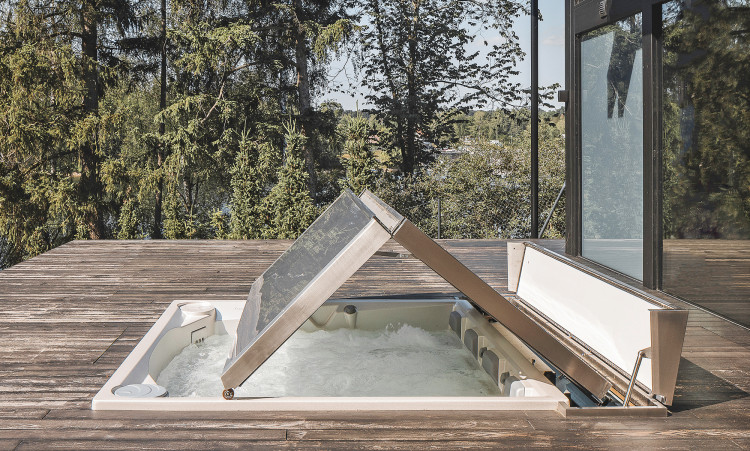 Treatment: bromine marks time
Bromine used to be what the electric heater was to spas: essential. Treatment then gradually evolved towards solutions combining active oxygen, ozone, UV rays, etc. This trend has been confirmed due to the recent increase in the price of bromine.
Ozone generators, which reduce the quantity of any disinfectant, are always proposed as standard or optional equipment. Integrated UV treatment is also on the catalogue of some manufacturers.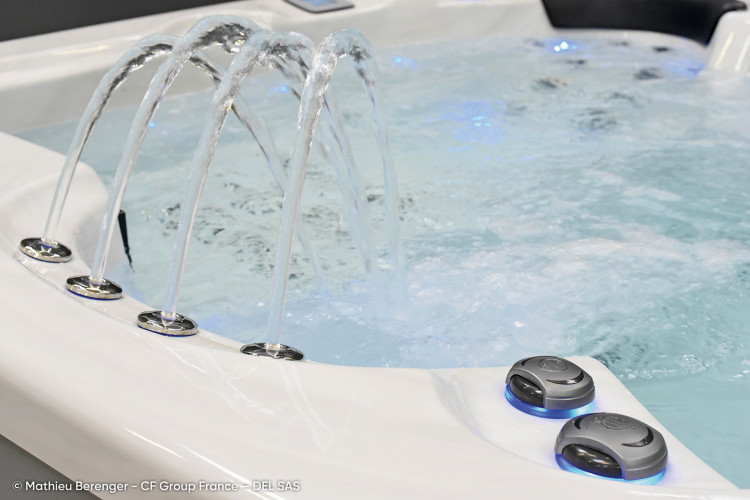 2nd goal : European manufacture to limit the carbon footprint

Historically made in America, and then in Asia for certain brands, spa production has in recent years relocated to Europe, at least for assembly.
'Made in France' has become an additional commercial argument... used abusively by some players because it is often only one model that is made in France, while the rest of the range is imported from Asia.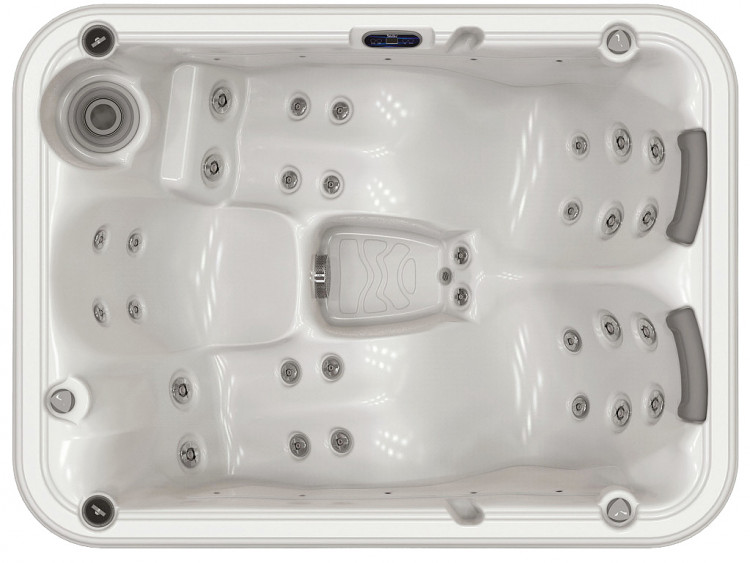 The trend is irreversible, driven by excessive logistics costs when the production site is located far from the market. Of course, Lucite acrylic sheets and Balboa technical equipment, for example, remain made in the US, but the design for tank moulds and the assembly of selected technical equipment remains European or French.
At Wellis, for example, created in Hungary in 2003, the production of pools and spas is carried out in a facility of a total of 18,000 sq m and employs 400 people. Since December 2015, a 10,000 sq m production unit has accommodated ultra-modern production machines. This development clearly demonstrates the manufacturer's attachment to its country.
The new range of Wellis spas announces new solutions and a new insulation system, all to facilitate energy savings. Energy consumption has been significantly reduced, going from 5 kWh per day to 2.9 kWh for a 5-person model!
3nd GOAL : Provide recommendations for use
Insist on the location
Protected from the wind, in a location that is not only pleasant but which is also protected from climate stress to avoid both water cooling and evaporation.
Ensure the spa is covered whenever it is not being used
3/4 of the heat escapes via the surface. Recall all the advantages of a cover: the loss of calories and evaporation is limited, the water is protected, and water quality is preserved.
Recall the importance of maintenance
Spa owners must be convinced of the benefits of careful and regular maintenance: filter cleaning, pH monitoring and treatment. Unbalanced water disrupts thermal exchange with the heating elements, and a clogged filter hinders water circulation, which requires additional effort by the pumps.
Limit us
An obvious piece of advice... and yet worthy of attention. Good planning of usage (which could be assimilated to the planning of domestic heating) generates significant savings. But be careful not to overdo it. Indeed, switching off the spa is not necessarily a good idea because once the water has gone cold, heating requires much more energy to reach the set point, whereas maintaining the water temperature requires only a little energy.
To winterise or not to winterise?
That is the question. It obviously depends on year-round usage, but also and above all on the geographical location of the spa. Just like for pools, it is possible to consider active or passive winterising. Programmers enable the water to be kept at low temperature with minimum maintenance for quick restart. This contrasts with total winterising, which can lead to a number of surprises if not carried out properly.
Inform users on the importance of treatment
Information on the disinfection of spa water is necessary, including for pools owners.