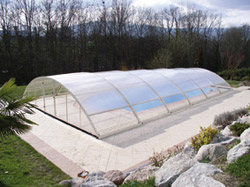 Among the new ranges of telescopic shelters offered by Eureka since autumn 2007, the manufacturer displayed the Cybèle model (opposite) during the last fair that was organised in Lyon.
It is a low arched shelter with extra-straight track on the ground made of aluminium polycarbonate and polymethacrylate.
Cybèle shelter is available in different models: basket arch, low and medium height.
It is equipped with a front and a base that can be dismantled in three parts, the base is equipped with a central door.
It is easy to maintain and a single person can accomplish the maintenance-work.
Automatic set-up.
Colours: ivory, other colours available as an option.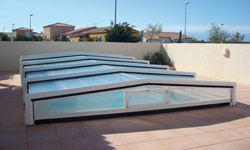 Also, to be discovered "Lion" resulting from the shape of "Aquarius" in angular form that has a well-known patented triangular guide track that lets a single person on ground carry out the task of folding.