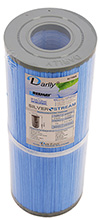 Darlly's SilverStream range of filters uses Reemay® with Microban® which is exclusively available to Reemay®.
The addition of silver ion technology incorporated within the End Caps and, uniquely, the EasyStream core of the filter cartridge delivers continuous built-in antimicrobial protection for the expected lifetime of the filter cartridge. According to the company, test proved that SilverStream filters were 5 times more effective than a well-known competitive brand of filter.
Darlly argues that, in these tests, the competitive antimicrobial filter actually grew one of the bacteria on the cartridge. In dirt holding tests the SilverStream cartridge held twice as much dirt as the competitive cartridge; this translates to less frequent cartridge cleaning and more consistent water flow through the filter.