Abriblue has created an innovation in its Wing System. Now pool sides, steps or paddling pools can be easily covered.
The idea is simple: the Wing System is an additional cover attached to the main cover by a patented hinge system.
The cover and Wing System merge into a homogeneous unit that is also visually appealing.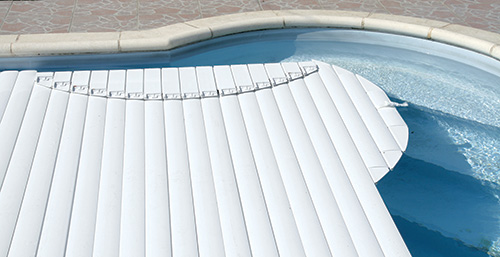 A simple rotary motion is enough to place this latest invention from Abriblue across inaccessible areas of a pool.
This means that safety roller shutter covers can now be installed in areas where this was not previously possible.
Wing System reduces evaporation, improves the heat balance and ensures cleaner water and a longer working life for your pool for a low cost and little effort.
The shape of the areas to be covered can be square or rectangular, Roman, freeform or trapezoid.
Wing System is adjustable, meets the requirements of the French NF P 90-308 safety standard and is supplied with a three-year warranty.
Abriblue also subjects the Wing System to the same quality standards as its main covers.