With its sleek and elegant design and its solid natural wood look, the Piscine URBAINE pool by PROCOPI (French manufacturer) combines several advantages for small spaces and controlled budgets.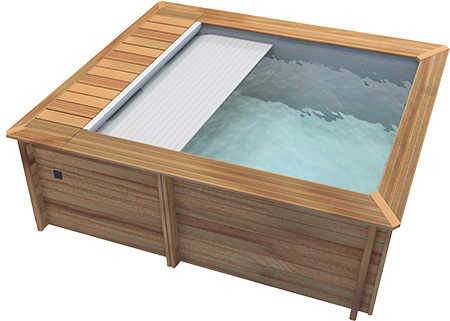 This square or rectangular swimming pool, measuring less than 10 m², can be installed anywhere, and does not need a building licence.
Equipped like a high-end pool, this pool in solid northern pine, treated by autoclave class 4, comes with 4 equipment options.
Depending on the version chosen, standard equipment includes a submerged automatic cover (NF P 90-308) for optimum safety, a LED spotlight, automatic filtration management (sand filtration unit and self-priming pump), a wooden case containing the electrical equipment of the cover and filter, a skimmer and an outlet nozzle in the colours of the liner and the cover, and a Proswell heat pump.
Its integrated automatic cover opens and closes in a few seconds with a simple turn of the key, concealing the cover under the edge of the pool in the open position.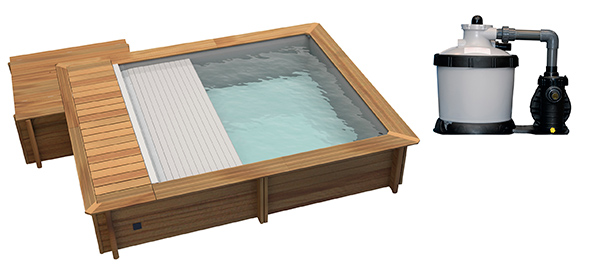 Piscine URBAINE can be installed above ground, partially in-ground or in-ground (for the two latter models the case is compulsory). It has a 28 mm thick double edging in pinewood that plays an aesthetic and practical role.

To practice counter-current swimming, PROCOPI also provides a fixed swimming belt, with a Sandow fastener and a ringbolt to be fixed to the beach, for training or pleasure!