Heating the pool efficiently thanks to Penguin4Pool, an equipment with an original look
Your customers are sure to love the new Penguin4Pool heat pump! This heat pump no longer needs to hide in the garden thanks to its eye-catching design. Surprising and endearing, Penguin4Pool has come from the ice with its entire family: Ice3, Ice4 and Ice5, ready to heat up water in swimming pools from 15 to 30 m3.
It is the perfect companion to showcase near small and above-ground swimming pools...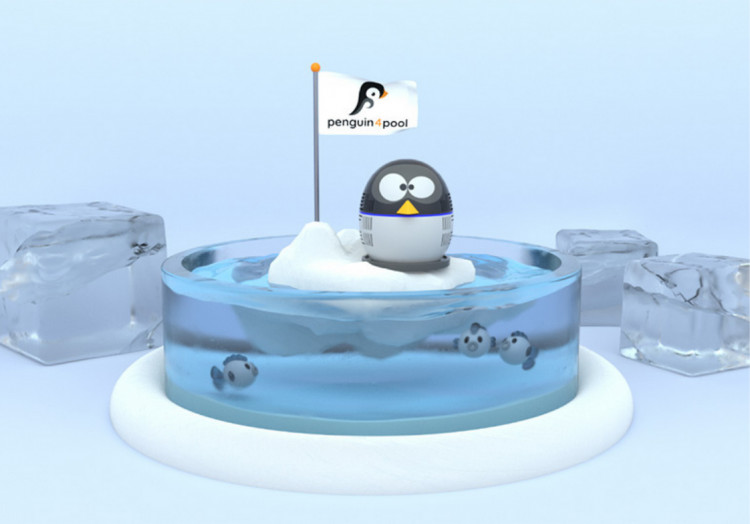 Penguin4Pool pool heat pump on the ice floe
A designer pool heat pump that is also very efficient
Its fun appearance in the shape of a friendly penguin is not its only strong point as this new range of heat pumps is also packed with technology.

This small animal, which seems to come straight out of a cartoon, actually hides several high-performance organs in the centre of the device, which prove its longevity:
Its heart, an ultra-high-performance, silent, rotary compressor, is positioned on anti-vibration pads.
The muscle power behind the heat pump, the double flow coiled titanium exchanger, is in a horizontal position. This innovation in heat pumps helps optimise space inside the heat pump, while giving Penguin4Pool the power and energy required to heat water.
As part of the anatomy of this charming cool penguin, its evaporator is the real lung for the heat pump, specially designed to ensure optimal "breathing": that means to take the most calories possible out of the air.
The brain of the heat pump, its electronic board, is logically placed inside the penguin's head at the top, where it is protected and easy to access. It lets you control the heat pump either from a digital screen or via a Bluetooth connection from a smartphone.