Founded in 1977, the global group Watkins Wellness notably encompasses the spa brands Hot Spring®, Caldera Spas®, Fantasy Spas® and Freeflow Spas®, as well as the Endless Pools® range of swim spas and aquatic fitness systems.
The company's headquarters are in California, and since 1986 it has been a subsidiary of the Fortune 500-listed MASCO Corporation. Founded in 1929, this company specialises in well-being and home design products, such as the Hansgrohe®, AXOR, and Bristan lines of bathroom fittings.
A complete range of spas, with patented technologies and elegant design
With over 40 years of experience and 1.75 million spas sold in 70 countries around the globe, Watkins Wellness® is an established specialist in the spa sector. The company offers several collections, developed around a spa experience that has become an essential daily ritual for users. Its products cater to every desirable comfort, combined with advanced well-being technology. These include ultra-comfortable spas with ample dimensions (up to 7 and 8 places, with lounge chairs for certain Hot Spring® and Caldera® models), but also spas that are easy to install in any interior space (including the smallest) at competitive prices, with the FreeFlowSpa® and Fantasy® Spa brands. Then there are the swim spas sold under the Endless Pools® brand, offering a full range of super-equipped spas allowing users to practice aquatic fitness or swim against the current.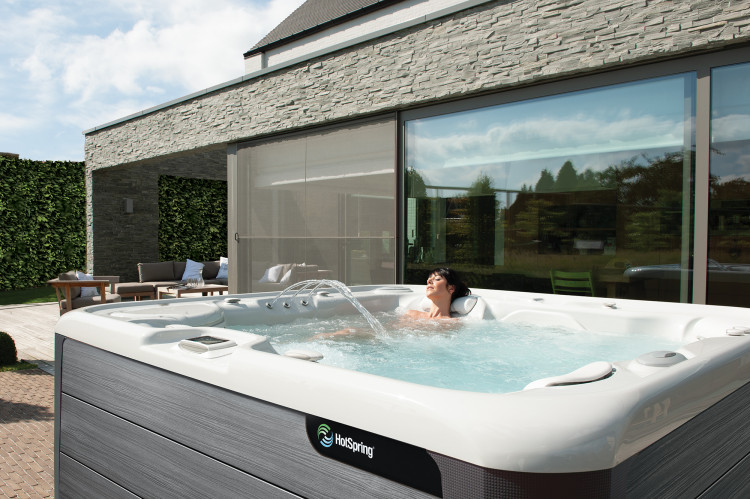 Spa HotSpring
Watkins Wellness® also boasts a long list of patented technologies designed to enhance the user experience. These range from water treatment, such as the unique FreshWater® salt system, to massage innovations such as the Hot Tub Circuit TherapyTM, the Moto-Massage® (an exclusive jet that runs up and down the back), Comfort ControlTM systems and SmartJetTM (adjustable, user-controlled jets).
To provide their owners with further satisfaction, Watkins Wellness® spas are also energy-efficient, using FiberCor® insulation and the Energy Smart system to reduce their energy consumption, as well as the EnergyProTM low-power circulation pump. All the manufacturer's spas are certified annually by the California Energy Commission (CEC).
The aesthetic aspect receives no less attention, with spacious seats sculpted to hug the body and keep it submerged, and a design that takes every detail into account - all of which is enhanced by LED lighting, a choice of shell colours, and elegant (sometimes textured) housing offering the resistance and durability of composite materials (durable, low-maintenance EcoTechTM housing).
The spas are controlled via an intuitive AdventTM touch-sensitive panel, enabling the temperature, jets and lighting, as well as the audio and video accessories, to be precisely adjusted.