For the past 2 years, Sirem has designed and marketed a new generation of counter-current swim turbines that are more comfortable, more powerful, easier to install and less energy consuming.
Counter-current swimming designed for everyone
To better meet the demands of the market, Sirem has enhanced its range of swimming turbines with the Swimeo X turbine. With the new Swimeo X model, which comes in 2 power output versions, Sirem satisfies a need for discreet integration that is compatible with the demands of a refined, high-end outdoor design project.
The X model fits into a masonry niche that is provided for during construction. The 316L stainless steel installation kit fits to the pools wall and, like the rest of the range, always above the water line to avoid any risk of leakage. Videos and a construction guide facilitate installation by a professional.
Thanks to 4 operating speeds, each member of the family can adjust the power of the flow according to their needs and wishes. With Swimeo, the pool becomes a place of recreation and freedom where each user can surf the flow, enjoy a massage or swim against the current.
Lionel Jourdan, Swimeo athlete at the Ötillö in Sweden
For the past year, Swimeo has sponsored sports adventurer Lionel Jourdan. Lionel, the record holder of the Enduroman, the London to Paris ultra-triathlon that includes a crossing of the English Channel, and Swimeo are collaborating on the design of future Swimeo products, the prototypes of which are tested by Lionel.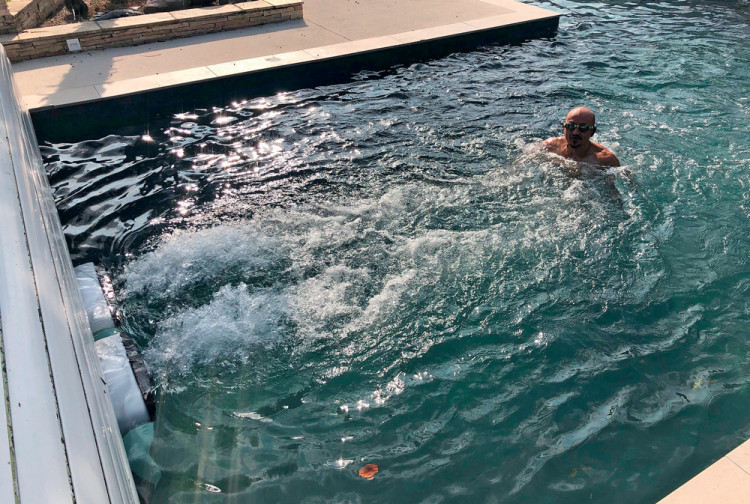 Lionel Jourdan training at home with 2 Swimeo S400 counter-current swim turbines
This year, Lionel qualified for the Ötillö, the World SwimRun Championship that took place in Sweden and covers a distance of 70 km, including a 10 km swim in the open sea. Lionel trains at home with a double Swimeo S400 to perfect his training and mental condition.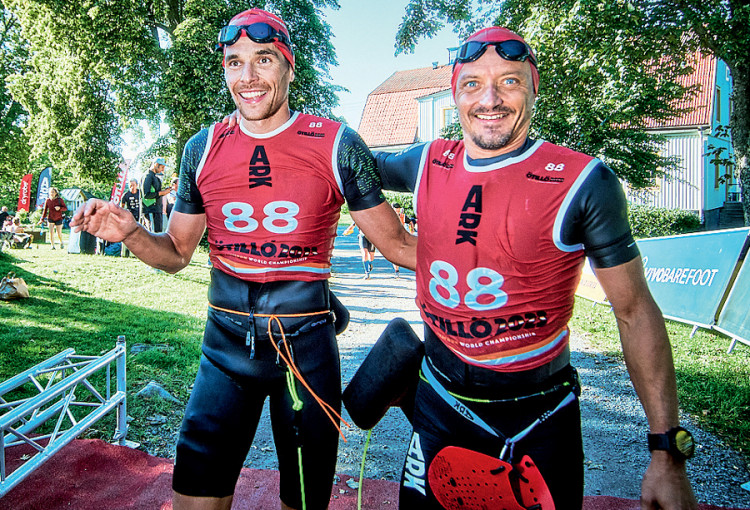 Lionel Jourdan (right) and his partner Clément Cros