On the strength of its past success and its renown as experts in the water treatment of aquatic pools, hth®, a SOLENISTM brand, is preparing to create a buzz during the Piscina & Wellness Barcelona trade fair by presenting its innovative products and commitment to water quality.

Solutions to preserve our resources
Sustainability will be one of the key themes of the participation of hth® in the fair, where the brand will demonstrate its commitment to economical pool maintenance.
hth® will present a range of products designed to minimise the environmental footprint of pool maintenance, making the management of pools open to the public not only safe and easy, but also eco-friendly:
The new 2024 digitalised and interactive hth® catalogues, which enable users to quickly find hth® products and solutions and cut down on printed catalogues
The red range to avoid over-stabilisation and thus cut down on water renewal
The hth® easiflo® water treatment system for collective pools, already recognised by over one thousand camping sites
New options to complete the classic system of feeder + calcium hypochlorite briquettes + regulation:

hth® easiflo® 10 First, the new feeder for small pools (from 1 to 150 m3)
hth® easiflo® Eco, a small control unit that enables at least 50% less electricity consumption for water treatment systems and substantially prolongs the life cycle of the booster pump

the hth® CYCL'EAU® link for total connection and remote control
the range of private pool and spa products for residential pools.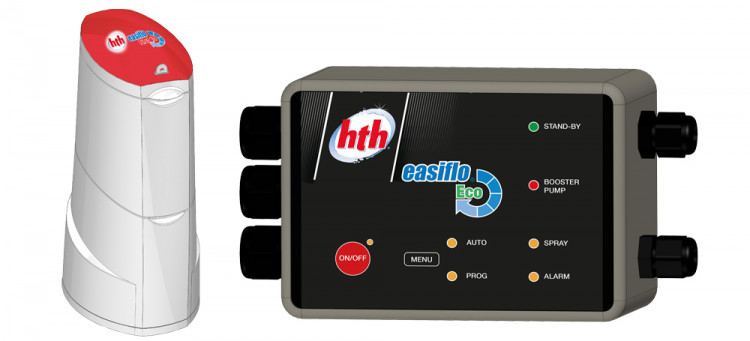 hth® easiflo® 10 First and hth® easiflo® Eco
hth® will not only be present to sell its products, but visitors to the stand will be also able to attend practical demonstrations and benefit from expert advice.