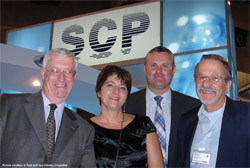 From the left to the right:
David Mathers, Sylvia Monfort, Ian Pratt et Rich Polizzotto
Sylvia Monfort, General Manager of SCP Europe, has been appointed to the Board of SCP UK in a leadership capacity with effect from January 2008. She will oversee operations run by its three main Directors:
Ian Pratt - sales and marketing;
Richard Rigden – operations, internal matters, purchasing and logistics;
Dash Ganeson - finance and administration.
David Mathers continues to serve as vice-chairman with an ambassadorial and general consultancy role.
According to SCP, Spatex 2007 was an excellent show for the company, with rising visitor numbers to the stand, an increased number of contracts and sales concluded at the show, and a high order value – especially for spas.
Sylvia Monfort comments: "For 2008, we have set up a very focused and organised team in order to launch our new, innovating sales promotion plan and work on our partnership with some of our key European suppliers with whom we will develop a medium and long-term marketing strategy.
"One has to recognise that 2007 saw very bad weather conditions. In spite of good strategic decisions and an excellent first quarter, such bad weather proved to be a hurdle in terms of achieving our objectives. As the season had started on a strong note, we had anticipated high demand; however, adverse weather did not allow us to place all our stocks with pool fitters who also found themselves to be overstocked, and even in some cases, in financial difficulties.
The reorganisation we have undertaken builds not only on the existing structure, partnerships and Norcal's reputation prior to 1998, but also on innovation and service – key attributes that enable SCP Group to offer new alternatives to the market.
"The Spatex 2008 exhibition is a showcase that we are very much looking forward to. It is a great opportunity both to meet some of our major customers and to launch new products that have not yet been featured in our English catalogue, such as Abriblue automatic covers, new Hayward HeatPro heater pumps, along with new spas and accessories ranges. We will also particularly emphasise client service and closeness to our customers especially for equipment and maintenance of existing pools."
Email: info.eu@scppool.com
Url: www.scpeurope.com