RENOLIT membranes were in attendance at the aquatic events in Beijing. In close collaboration with the clients A&T from Italy and Europool China, RENOLIT Ibérica participated in the refurbishment of the Ying Tung Natatorium in the Chinese capital.
The presence of RENOLIT in Beijing confirms a long tradition of Alkorplan 2000 membranes at Olympic Games and venues of swimming championships all over the globe.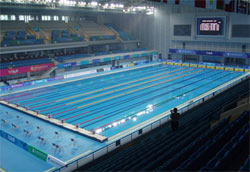 Olympic pool equipped with Alkorplan 2000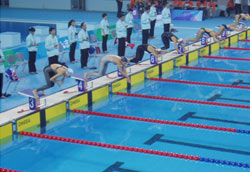 First competitions in the renovated Swimming Centre

The Ying Tung Natatorium, which is situated in the Olympic Sports Centre, was originally built for the swimming events of the Asian Games in 1990, and has been completely renovated and equipped with state-of-the-art materials for the Olympic Games.
The main pool of the swimming centre was renovated using the Myrtha technology, the floor being lined with over 1,200 m² of Alkorplan 2000 waterproofing membrane. This pool hosted the events of water polo and the Modern Pentathlon swimming discipline of the Olympic Games. It also served as a training pool for the swimmers.
In addition, the diving pool as well as two warm-up and relaxation pools had been entirely renovated with Alkorplan 2000. A special non-slip membrane had been used to cover the pool decks. In total, more than 8,000 m² of Alkorplan 2000 were used for the renovation of the swimming pools and the pool decks of the Ying Tung Natatorium.
The freshly renovated swimming centre passed its sportive inauguration with flying colours, when the swimming finals of the Modern Pentathlon World Cup took place in September 2007.