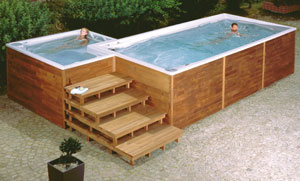 The complete unit called Swim Spa XL and Combi Spa including the new cover structure with lifter from USSPA was nominated at this year's International building fair in Brno, Czech Republic.
It did well in this competition and the award, after four years, again went to the Czech company who designed this unit.
The ceremonial presentation of the Gold Medals formed part of the ceremonies organized for the 80th anniversary of the event. The honour for the complete unit was accepted by J
an Kadlec, export manager of USSPA, and received from Jiří Čunek, the 1st Vice-chairman of the Government of the Czech Republic. Swim Spa XL and Combi Spa with a cover lifter
is a complete unit which combines a thermal pool with a massage spa, thus active rest with relaxation. It has already received a great reception at its presentation at prestigious international specialized fairs in Germany, France and Spain.
The design and the manufacture itself of the Swim Spa XL and Combi Spa come entirely from the production of the Czech company.
For further information, meet them at the following trade fairs:
INTERBAD 2008 / Stuttgart - Germany 15-18 oct. : Stand 8E32
PISCINE 2008 / Lyon - France 18-21 nov. : Stand 8C53