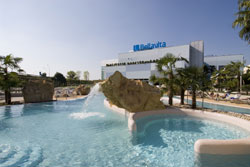 Cemi,
market leader in the sector of water parks and wellness centres both in Italy and abroad, opens the 2008 year with a great event: the inauguration of "ELDORADO", 45 000 m² dedicated to entertainment, wellness and health, studied and realized by Cemi.
The pole represents today the biggest Italian structure dedicated to entertainment: composed by various attractions such as a 4 stars hotel, a multiplex cinema, events zones and restaurants.
In particular Eldorado boasts the
presence of "Bellavita", a prestigious wellness centre of 15 000 m² that develops itself on two levels.
On the first level can be found a big tropical swimming pool of more than 65 metres, a semi Olympic swimming pool, a relax zone with a "frigidarium" and a "calidarium" swimming pool and the exclusive attraction, the Flowrider: 131 metres of artificial waves where it is possible to practice surf indoor.
Outdoors there are a big aquatic park with slides and water games, events zone, restaurant service and bars.
On the first floor, there is the beauty area with Spa and medical outpatients clinic.
Thanks to the variety of its offer, "Eldorado" will be an attraction centre ready to reply to the requirements of relax, entertainment and socialization of North Italy, but it's also a centre dedicated to business people, business and congressional meetings.

For further information, meet them at AQUALIE / PISCINE 2008 - Lyon - France 18/21 nov.:
STAND 9G12