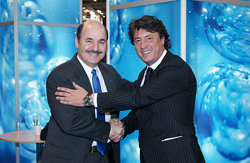 Manuel Perez de la Mesa and Angel Rodriguez Lopez
SCP Pool Corporation, world leader in the distribution of pool and spa equipment, chose the International Pool and Spa Trade Show in Lyon, France, as the venue to announce its recent acquisition of Spanish company PROPLAS PLASTICOS, which was signed in Madrid October 31st last.
PROPLAS PLASTICOS is based in Madrid and is a renowned player and specialist in both the distribution of pool equipment and of irrigation and plumbing materials.
Mr. Angel Rodriguez Lopez, owner of PROPLAS
, has accepted to stay on in the new company and will now take on the role of CEO for the SCP Spain account under the supervision of Sylvia Monfort, General Manager of SCP Europe; he will work closely with Mr. Salvador Mauri, who will continue heading up operations for the Spanish subsidiary, the headquarters of which will now be based in Mostoles (Madrid).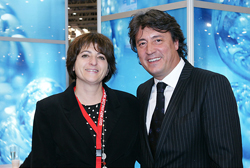 Sylvia Monfort and Angel R. Lopez
"Each company adds something to the other, so we complement each other well. This union puts a strong base and foundations in place to ensure SCP enjoys a positive growth in Spain. PROPLAS PLASTICOS' presence and central geographic location is ideal: it will enable the company to reach the whole of the country from Madrid, which will strengthen the commercial network structure,"
declared
Manuel J "Manny" Perez de la Mesa, CEO of Pool Corporation
, during his interview with us at the show.
The acquisition paves the way for an increased presence in the Spanish market by giving PROPLAS the opportunity to use and build on SCP's resources. By combining their strengths and work together, both entities have formed a winning team. They can work on their ideas for development in a calm and confident manner because two essential elements have now been reunited: the labour and leadership on the one side and the financial and organisational resources on the other.
"What we were missing was a significant geographic stronghold and, as far as service is concerned, technical support, client relations and the value add to offer our clients"
, said
"Manny" Perez de la Mesa
.
"We will be able to offer our clients more but for the same price. This union will send a strong message to the market."
Sylvia Monfort, General Manager of SCP Europe, added
,
"this year we are celebrating the 10 year anniversary of our presence in Europe, and it is also the company's 10th acquisition, which really highlights the SCP Group' s willingness and policy for development in Europe, despite the current credit crunch and recession. The marriage of these two companies marks the start of a new commercial offer in the Spanish pool sector. "