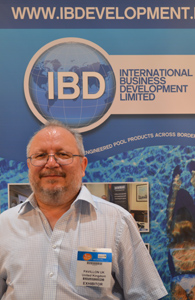 After 40 years of activity in chemical engineering, water treatment and international business development, Ahmad Arafa has created the company IBD (International Business Development Limited).
Ahmad previously held the post of Sales and Marketing Director with a major manufacturer of ozone and UV equipment for the treatment of potable, waste and swimming pool water.
After a period of activity as an independent consultant, Ahmad Arafa based IBD near Manchester in the United Kingdom to offers technical and commercial support to swimming pool professionals who wish to export their engineered manufactured products.
Working in cooperation with other independent professionals based in various countries, International Business Development makes available a network of well-versed specialists in key export markets.
The company offers its clients an opportunity to export its manufactured pool equipment to desired countries using an unashamedly technical approach with the addition of an accurate knowledge of the commercial habits and practices in the targeted overseas markets.
The regions that the company specialises in are Western Europe, Eastern Europe, Russia, the Middle East, North Africa and South Asia.