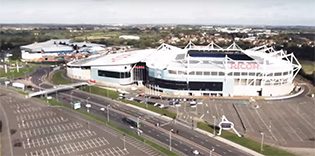 SPATEX 2016 will open at the end of January at the Ricoh Arena in Coventry. With well over 120 companies now participating, the 20th anniversary edition is promising to be one of the very best yet.
This will be the first opportunity in 2016 to see the season's new products and innovations, ranging from new one piece pools to hot tubs to saunas and steam rooms, in fact everything in the world of wet leisure. Click through for the list of exhibitors.
Repeating the success of last year, the Show is hosting two seminar arenas offering free industry training on vital current topics on all three days of the Show. Keith Moody of La Paloma Contracts, Spain says: "Each year I come over from Spain to attend SPATEX, not just for the exhibition and display of new products but also for the seminars and workshops. Living and working as I do in Spain, it is important to keep up to date with all the Industry training, education and Standards and SPATEX is an unparalleled free source. The knowledge that I glean is worth the cost of the trip over!"
Click to discover the Seminars Sessions.
SPATEX attracts a host of experts and associations. Throughout the three days of the Show, experts on the PWTAG stand are on hand to offer free, impartial advice on water hygiene and treatment whilst those on the ISPE stand are happy to answer any general technical enquiries. In addition, visitors are welcome to visit the BSPF (British Swimming Pool Federation) stand for information on swimming pool and hot tub Standards and guidelines. There is a special session on Sunday afternoon from 14.00 to 17.00 when a number of Industry experts, across all disciplines, will be on the BSPF stand to answer your enquiries.
If visitors have a query and need pointing in the right direction, they can go to the Help Desk at the entrance of the Jaguar Exhibition Hall. The Organiser, Michele Bridle and Show Co-Ordinator, Helen Mulingani will be wearing white shirts bearing the SPATEX, to chat with visitors if they have a specific query.
2016's Arena for networking
All visitors and exhibitors are warmly invited to the 20th Anniversary party on Monday February 1st in the Ricoh Arena's Bar 87. The Mexican themed networking style reception will begin at 17.00. Free drinks and nibbles will be provided, including a Mexican inspired drink for all attendees thanks to the generosity of Andy Gibb, Managing Director of the Ricoh Arena.
SPATEX has brokered some excellent hotel deals to discover on the website.
The organisers are offering a FREE TAXI from Birmingham Int. Airport (20 minutes away) for all international visitors.
Visitors have to provide Michele or Helen in the SPATEX office (T: +44 (0) 1264 358558) with their flight details.