2016 Olympic Games in Rio de Janeiro: for swimming competitions, Myrtha Pools has designed and is installing 18 pools intended for training, competition and post-race recovery.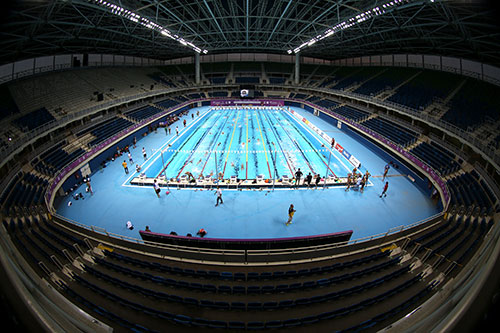 Two 50x25m newly built swimming pools have been installed within Estádio Olímpico de Esportes Aquáticos for training and competitions.
Inside the Maria Lenk Aquatic Center, a swimming complex recently renewed, Myrtha Pools built a permanent 50m pool -which will host diving and synchronized swimming matches-, and a temporary 25m pool, installed to host all the waterpolo matches.
The six pools – one Olympic, one semi-Olympic and four for physio-therapy – have been built at the Brasileiro Paralympic Center of Sao Paulo, three other 50m permanent pools will be the ones built at UNIFA and UFRJ (two university campuses) and Novo Parque Aquatico do Flamengo Sport Center, built in 1965 and completely renovated for the Olympic events.

In additions, the athletes will have the opportunity to train at the Parque dos Atletas -where Myrtha Pools is placing two 50m temporary pools-, at the Centro de Formação Olímpica do Nordeste, in Fortaleza -which includes two permanent pools-, and at the Esporte Clube Pinheiros in São Paulo, where the company has renewed the main pool which dates back to 1980 and which required a requalification.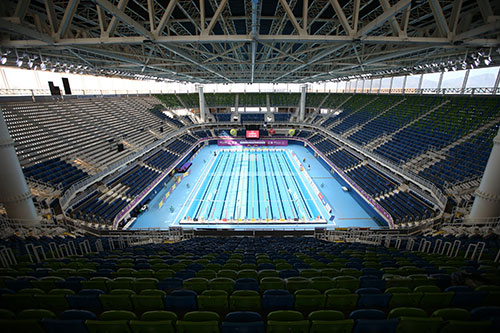 After Atlanta (1996), Beijing (2008) and London (2012), and being chosen by the FINA and CBDA of Brazil, Myrtha Pools brilliantly heads for its fourth rendezvous with the Olympic Games.
The many advantages of the Myrtha® modular system, unique and patented, with panels in stainless steel, weighed heavily in the balance, ensuring reliability, millimetric precision during installation, speed of construction and longevity to the structures.
Dimension: 50x25x3m (2 pools, Olympic Aquatics Stadium); 50x25x3 m (Maria Lenk Aquatic Park); 50x25x2 m (Unifa); 50x25x3 m (UFRJ); 52x25x3m, 25x12,5x2m, 3.60x4x1.04m, 3.60x4x(1.24-1.04m), 3.60x3x2m; 5x3.3x1.24m (6 pools, Centro Paraolímpico Brasileiro); 20x25x2m (two pools, Olympic Park); 30x25x3m (Olympic Park)

Technology: Myrtha overflow gutter – ceramic/1, Myrtha overflow gutter – ceramic/2, Myrtha overflow gutter – classic competition