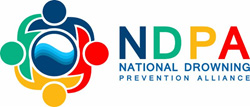 The National Drowning Prevention Alliance (NDPA) unveiled a new logo and announced organizational changes at its 15th Annual Education Conference in Mesa, AZ, March 29 - April 1, 2016. Depicting four distinctly colored people linking arms around a body of water, the logo captures the new mission statement of the NDPA: "United, we can prevent the tragedy of drowning".
The graphic symbolizes the four pillars of the NDPA (Families United to Prevent Drowning, Educational Partnership, Corporate Partnership, and Task Forces and Coalitions) and NDPA's renewed emphasis on serving first as an alliance. A bimonthly NDPA newsletter was recently inaugurated to communicate events, ideas, strategies, and research happening among the membership. The NDPA is now making internal changes to keep pace with a growing alliance in common purpose: "United, we can prevent the tragedy of drowning".

NDPA on the Move

Jim Paterson
Effective July 1, 2016: current NDPA Vice President Adam Katchmarchi will succeed Jim Paterson as President; NDPA Board member Eric Lupton will succeed Adam Katchmarchi as Vice-President.

When Paterson took the reins as President in 2013, the NDPA was in financial distress. Paterson used his experience as current senior executive at D&D Technologies to turn around NDPA's operation and governance. He was recognized for extraordinary leadership by being named 2016 Power Issue Honoree #1 by Aquatics International.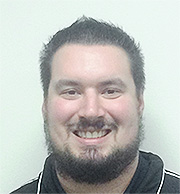 Adam Katchmarchi
Meanwhile, over the past 12 months, Katchmarchi was laying the groundwork to take NDPA to the next level. A Ph.D. graduate [expected summer 2016] in Kinesiology at West Virginia University, Katchmarchi recently accepted a position at Indiana University of Pennsylvania (IUP) as a full time faculty member, tasked with revamping an undergraduate aquatics program for the 2016-2017 academic year, with a graduate program to follow. "With the NDPA growing at an accelerated rate, I've been thinking long and hard on how to better manage the operations of the organization," said Katchmarchi. On July 1, 2016, NDPA headquarters [not official governance as 501(c)3 nonprofit] will move from Tustin, CA, to IUP in Indiana, PA. A graduate assistant at IUP will staff an NDPA office at IUP for the next year, to handle year round activities and our flagship annual NDPA Education Conference.


Eric Lupton, President of Life Saver Pool Fence Systems, Inc., has been active in drowning prevention for over two decades, has produced a number of pool safety educational materials, including the acclaimed video PSA "Pool Safety Info Every Parent Should Know", and is regularly interviewed by local and national news outlets on entrepreneurship, business management, and water safety. Lupton has cerebral palsy, requiring full-time use of a power wheelchair, with symptoms he believes closely mirror that of many non-fatal drowning survivors. He was elected to the NDPA Board on July 1, 2015.

2016 NDPA Conference - "Investing in Our Future"

Since 2001, NDPA's annual Educational Conference has been providing a unique opportunity for organizations and individuals interested in drowning prevention to come together to learn and collaborate. This year's 2016 Conference in Mesa, Az, March 29 - April 1, had the highest attendance in recent years, surpassing the 2015 Conference in Dallas attendance by 10%.

Highlights of the 2016 Conference included Global Perspective in Drowning Prevention, Technology that can make a difference in preventing a drowning, Autism awareness and risks associated with drowning. Over 50 speakers addressed all aspects of drowning: prevention, education, programming, technology, research and statistics and families who have been impacted by a fatal or non-fatal drowning. Attendees ranged from all throughout the United States, down to Peru and across the globe to Denmark. Representation from EMS, swim schools, municipalities, manufacturers, government leaders and organizations, universities, families who have lost a loved one to drowning and many more were all in attendance. Annual NDPA Award winners, seven in total, were recognized during a special ceremony on March 30.

Industry participation in NDPA has increased dramatically over the past two years. The Board now includes three active and one retired industry member. The Conference has evolved accordingly. For example, the 2016 Conference hosted a panel of experts on some of the cutting edge water safety technology that is changing the face of drowning prevention. Moderated by Eric Lupton, each panelist addressed a distinct technology and product using that technology, the impact of technology on water safety overall, and their thoughts on the future. The audience asked questions throughout, creating an animated dialogue that overran its allotted time and had to be cut short.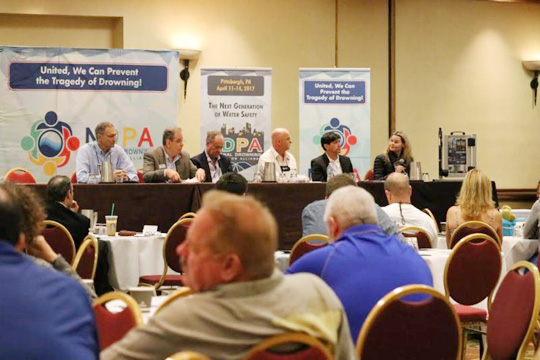 Panelists, left to right:

Poseidon Technologies, Inc., APSP, Pool Hawk, PSD Industries,cFloat, D&D Technologies

The NDPA 16th annual Educational Conference is returning to Pittsburgh, PA, at the Omni William Penn Hotel, April 11 - 14, 2017.
The NDPA is currently accepting speaker applications for the Conference.
For more information or to submit a presentation.