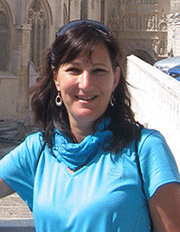 Michele BRIDLE
SPATEX 2017 is the UK Show Europe has been waiting for! Celebrating its 21-year anniversary, we'd like to warmly welcome our home and international visitors to the Coventry's Ricoh Arena for this spectacular edition, from Tuesday January 31st to Thursday February 2nd.

"The Show has really come of age," says Organiser, Michele Bridle who has been part of SPATEX's success story for 17 years.
"Moving to a mid-week slot to bring it in line with our fellow European Shows, is an exciting step for us and gives the Exhibition a whole new grown-up feel. We are building on the success of last year's Show, which attracted an unprecedented 28 per cent increase in visitors. Our aim is to give our visitors real added value, then we know we will have done our job."
LOTS TO SEE:
• SPATEX features in excess of a hundred top quality exhibitors drawn from Europe and America's leading manufacturers and suppliers.
• See the new products and latest innovations for the 2017 pool season first at SPATEX!
• View the impressive exhibitor list at www.spatex.co.uk.

In addition to the stands, there's also a new product zone and this year there are more innovations than ever!

LOTS TO HEAR:
We've curated the best double seminar and workshop programme to date, offering FREE education and training that is unmatched anywhere in the world. The traditional subjects are all covered but in addition there's some brand new topics.
Here's a taster:
• Swimming ponds and natural swimming pools have hit the European headlines of late so we've invited board member of the British Association of Natural Swimming Pools, Tim Evans, has been invited to give an introductory talk on the subject on Wednesday February 1st (12.30-13.30) in Arena 2.
• For all lovers of rugby, Wasps Rugby Club Deputy Chairman, Nick Eastwood is giving a talk on Tuesday January 31st at 2pm in Arena 2 on Increasing Your Profitability – maximising leisure facilities and building a brand: the Wasps story.

Attendees of the workshops receive CPD points and certificates of attendance.

Further details on these and all the other seminars and workshops can be found at www.spatex.co.uk

LOTS TO CELEBRATE:
SPATEX is hosting a networking extravaganza on Wednesday February 1st at 5pm in the Ricoh Arena Clubhouse bar complete with free drinks, delicious food and a lot of fun.
All exhibitors and visitors are warmly welcome.

LOTS OF HELP:
The SPATEX Help Desk will be at the entrance to the hall and we will be only too happy to help point you in the right direction if you have a query.