Pools of South Americans Games 2018 will be made in Italy. Cochabamba will be the first Bolivian city able to boast 2 new Myrtha pools, designed with the same technology as Beijing Olympic Games 2008, London 2012, Rio 2016 and for the FINA World Championship.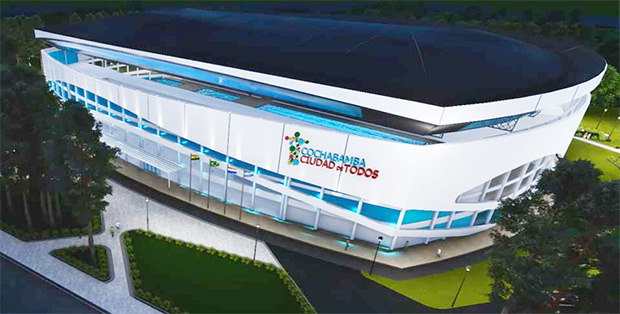 A new aquatic center currently under construction in the municipality of Cercado at Mariscal Santa Cruz Park will be the home to these pools.

The venue will be the arena of Cochabamba South American Games 2018. It is located 2570 m between the areas of La Chimba, Colina de San Sebastian and Cochabamba and is meant to be a "must have destination" for all sports and outdoor activity lovers.

Mariscal Santa Cruz Park has been designed with large spaces blended in the green: areas to practice all different types of sports, a food area, a playground and space for children and adults to relax. The park will become the biggest recreational area of Cochabamba created with the purpose to make people more sensitive and aware of important themes such as environment, natural resources and biodiversity preservation.
Myrtha Pools is perfectly suited to the eco-friendly theme: the limited carbon footprint of Myrtha Technology is 50% lower when compared to traditional concrete tiled pools. CO2 consumption and the amount of materials needed to complete a Myrtha pool are in fact clearly lower and represent the parameter to satisfy LEED criteria, the most important standard in terms of carbon footprint, recognized worldwide.

Installation kick-off will begin during the last months of the year and be completed in only a few weeks.
Some of the Myrtha benefits are the fast track construction, the design flexibility and project versatility without sacrificing extreme precision. All these represent top priority requirements for architect and Swimming Federations.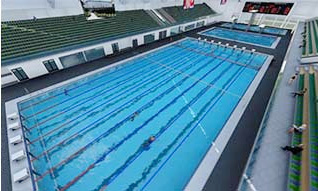 During International swimming competitions such as the South American Games, it is mandatory to have the correct pool size accordingly to FINA norms.

The Cochabamba Aquatic Centre schedule is to complete the entire project within 343 days from the start.
Even if the investment for the municipality of Cercado is considered quite large, it is offset by the fact that Myrtha Pools is able to offer a 15 year guarantee.

The Aquatic Centre will feature a total of 3 indoor heated pools. Two of the pools, designed by Myrtha Pools, with the third being handled by a local construction company.

Only the pools designed by Myrtha will be FINA sanctioned to be able to host the most important competitions. Myrtha Pools will complete a competition pool, 50x25x3 m, with 10 lanes and a diving pool, 25x16x (3-5) m, with 3 lanes for swimming.